GoWell highly commended twice at national research awards
A longitudinal research programme focused on regeneration and health and based in Urban Studies at the University of Glasgow has won awards in two out of five categories at a national planning research conference - the only UK research project to do so.
GoWell was highly commended in the Wider Engagement category, and GoWell East was highly commended in the Early Career Researcher category at the 2016 Royal Town Planning Institute's (RTPI) Awards for Research Excellence.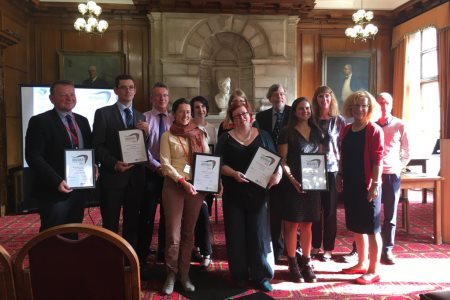 In relation to the first award, Catherine Tabbner, GoWell's Community Engagement Manager, helped establish a community panel from across the fifteen communities included in the study. The panel has met regularly over the past eighteen months as a capacity building tool for participants and as a two-way knowledge exchange mechanism for the programme.
In terms of the second award, Dr Julie Clark, GoWell East's main researcher, led the analysis and write-up of in-depth qualitative research about the Commonwealth Games 2014 with residents living in Dalmarnock in the East End of Glasgow. The research identified how distinctions of spatial scale, time horizons, and processes before, during and after the Games provided a complex pattern of impacts upon the host community. The findings of the research have been published in the journal Cities.
The Awards for Research Excellence are run by the RTPI to recognise and promote high quality, impactful spatial planning research from RTPI accredited planning schools, and planning consultancies around the world.
In the past two years, GoWell has won awards for its research output, knowledge exchange and impact, and wider community engagement.
Professor Ade Kearns, Principal Investigator for GoWell, said: "It is great to see our work, which is an example of the interdisciplinarity, co-production and wider engagement the RTPI wishes to see in planning-related research, recognised with two awards from this national competition. The whole team should be pleased and proud of this result."
GoWell is funded by the Scottish Government, NHS Health Scotland, NHS Greater Glasgow & Clyde and Glasgow Housing Association (Wheatley Group). GoWell East is funded by the Scottish Government, NHS Health Scotland and sportscotland.
Dr Michael Harris, RTPI's Head of Research, said: "The winners and highly commended entries have demonstrated how academic researchers can positively reach out to practitioners and policymakers with insights and finding to inform and influence their work. I am pleased these awards have been able to celebrate such impactful, high quality research again this year."
The winners and highly commended entries were announced on 7 September during the 2016 UK-Ireland Planning Research Conference at Cardiff University.
The Royal Town Planning Institute champions the power of planning in creating prosperous places and vibrant communities. Using its expertise and research it brings evidence and thought leadership to shape planning policies and thinking, putting the profession at the heart of society's big debates.
Find out more
---
Media enquiries: liz.buie@glasgow.ac.uk / 0141 330 2702
First published: 9 September 2016