Major award for School of Law alumnus in Beijing
School of Law alumnus Dr Zhaofeng Zhou's professional success as an anti-trust legal expert has been recognised in the 2016 Education UK Alumni awards, organised by the British Council.
Dr Zhou was runner-up in the Professional Achievement category and received his award at a prestigious event in Beijing.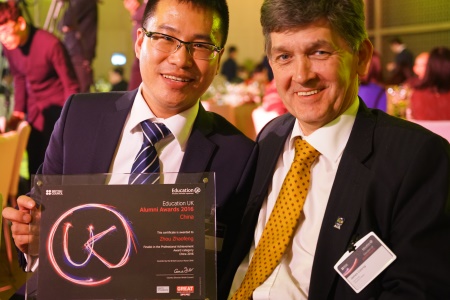 The awards recognise and celebrate the benefits that studying at a UK university have had upon the individual, their community and country. This is the second year that the event has been held in China – recognising the ever-growing number of Chinese students going to British universities.
The Professional Achievement section recognises alumni who have distinguished themselves through exemplary leadership and achievements in their professional industry and who can demonstrate the highest level of integrity and character in their professional career.
Dr Zhou has a PhD in Competition Law from the University of Glasgow. He graduated with an LL.B in Economic Law from Shenyang University of Technology and also holds an LL.M in International Law from the University of Bristol.
Professor James Conroy, Vice Principal for Internationalisation, and Professor Denis Fischbacher-Smith, Research Professor in Risk and Resilience and Depute Head of the Adam Smith Business School, attended the awards ceremony in Beijing; they were in the city to take part in a number of alumni events organised under the auspices of the Adam Smith Business School and the Development and Alumni Office.
Professor Conroy, in an interview for Beijing Radio with another alumnus of the University, Bruce Connolly, said: "Our graduate is an expert in international property law and is creating new opportunities and new ways of thinking about international law and how international law is going to work as the world becomes increasingly globalised. As trade and commerce became more globalised it becomes increasingly important that people look at legal frameworks across jurisdictions. Zhaofeng is one of the leaders in China in developing these inter-jurisdictional legal frameworks.
"We in the UK, and in Glasgow in particular, are extraordinarily proud of our Chinese alumni who are really making a difference – not just in China but across the world."
---
First published: 30 March 2016