Archaeologists uncover evidence for Scotland's earliest farming
An archaeological dig next to the Perthshire village of Dunning has revealed traces of human activity dating back 10,000 years. This included evidence of what experts believe is the earliest farming activity recorded in Scotland, and also remains of hunter-gathering activity dating back thousands of years before farming began.
The discoveries were made by archaeologists from the University of Glasgow, as part of the ten year, Strathearn Environs and Royal Forteviot (SERF) project. This year the project received an archaeology grant of £100,000 from Historic Environment Scotland to carry out geophysical survey, excavation, archival research and reporting.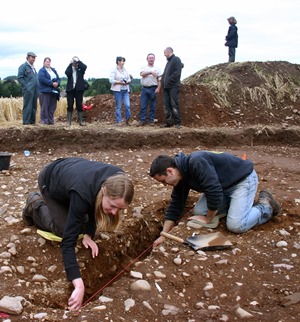 As part of the excavation of a large series of pits, the archaeologists discovered faint plough marks dating back to the 38th century BC (3800 – 3700BC), likely made by a hand-held scratch plough known as an ard, which does not turn over the soil. Early Neolithic pottery (from almost 6000 years ago) was also found, with hundreds of pot shards recovered close to the plough marks.
Dr Kenneth Brophy from the University of Glasgow, said of this discovery: "Evidence for ploughing and fields in Neolithic Britain is incredibly rare and so the excavation of the ard marks at Wellhill is a very significant discovery that suggests a farming economy had taken hold in this location only a few generations after farming began in Britain around 4000BC. This is an amazing insight into the lives of Scotland's first farmers".
Further radiocarbon dating of the dig sites showed that the pits actually dated back even further, to the late 8th millennium BC, meaning that they provide evidence of the first Mesolithic events in the lowlands of Perth and Kinross.
Dr Rebecca Jones, Head of Archaeology for Historic Environment Scotland said: "These are very significant discoveries for archaeology in Scotland and even further afield, which is thanks mainly to the endeavours of the principle excavator, Dr Dene Wright, who recognised the potential of these astonishingly early settlements, which were then confirmed via radiocarbon dating.
"We have been delighted to support the research and field school in the area run by the University of Glasgow, and they have exceeded expectations in expanding our knowledge, achieving educational goals, and engaging visitors. They deserve a great deal of credit."
---
enquiries: ali.howard@glasgow.ac.uk or elizabeth.mcmeekin@glasgow.ac.uk / 0141 330 6557 or 0141 330 4831
First published: 7 July 2016