University remembers the Somme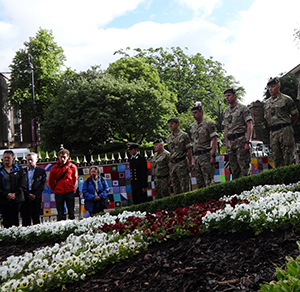 The University of Glasgow this morning remembered students, staff and alumni who died during the Battle of the Somme, which began 100 years ago today.
Scores of members of the University community gathered in the Memorial Chapel just after 7am to pay tribute to the students, staff and alumni who died on the opening day of the attack on the German front lines.
Short biographies were read for each of the men killed at the start of the battle. On 1 July 1916, eighteen members of the University community were lost; five more were killed on the 2nd and 3rd of July. The bodies of some of them were never recovered.
Of the 755 University men and women who fell over the course of the Great War, one hundred and forty-four were lost during the Battle of the Somme over the course of four and a half months. Many of them belonged to one Scottish regiment, the Highland Light Infantry. On display in the Chapel were brightly coloured knitted panels - the work of SOCK (Somme Observed Community Knitting) which has created squares for every soldier in the Glasgow pals battalion.
Act of Remembrance
This morning's commemoration was attended by the Chancellor, Professor Sir Kenneth Calman, who read one of the tributes. The simple act of remembrance was also attended by members of the Senate Office, the sabbatical officers of the SRC and a wide range of members of the University community, including the Officer Training Corps and armed forces veterans.
At just before 7.30am, a member of the OTC blew a whistle in the Chapel, the starting signal used in 1916 to send the men into battle. There were also colleagues from the University of Strathclyde and local schools: 100 years ago, many students who enrolled at the University of Glasgow had been students at the Royal Technical College, which was a forerunner of Strathclyde.
After the ceremony in the Memorial Chapel, those attending followed the University piper in a procession to the garden of remembrance that has been established by the Quincentenary Gates on University Avenue. Here wooden crosses were planted for each of the men killed 100 years ago. They join scores that have already been placed since these simple acts of remembrance were begun in 2014.
You can visit the University of Glasgow's World War One Commemoration pages featuring the Battle of the Somme.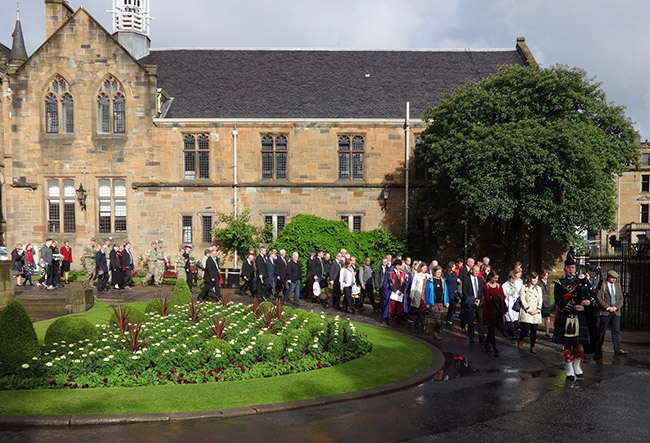 ---
First published: 1 July 2016