Taking Burns to the people
Robert Burns was a man of the people, writing poetry and prose for all, and that is the same ethic behind a new free online Burns course being launched by the University of Glasgow.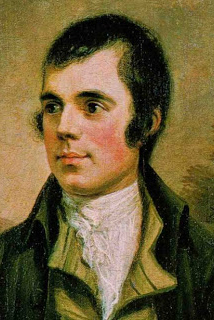 The free course will take Burns to the people when it is launched on Burns Night (January 25), making the Scottish Bard's work even more accessible.
Those registering for the 'Robert Burns Poetry and Song Legacy MOOC', can access the free course on computers, tablets and smart phones, with students working in their own time and at their own pace.
The course will come in three blocks spanning three weeks, but students can take longer if required to complete the course.
So far more than 5,000 people from five continents have already signed up for the University's Burns MOOC (Massive Open Online Course), which is hosted by FutureLearn, based at the British Library in London.
Professor Gerard Carruthers, Director of the Centre for Robert Burns Studies at the University of Glasgow, said: "The MOOC is essentially an introduction to Burns and it covers three broad areas – poetry, then song and then what we are calling afterlife and that relates to Burns' reputation after death, the way in which he becomes an icon, the way in which people collect objects associated with Burns, the way in which he is a phenomenon. So it's the life and times and also the afterlife.
"Once a person is registered the MOOC is entirely free. Those taking part then get a three week course, although they can take several weeks longer to complete, and they are directed online step by step.
"They work through a range of Burns poems and songs and objects, they are given video material, short essays, and quizzes, and they are able to test and build up their knowledge more or less at their own pace."
Dr Ronnie Young, the Course Co-ordinator, outlining the details of the course, said: "Each week introduces a new aspect of Burns with different online activities based around major works, broken into individual steps: watching videos, reading poems and articles, undertaking practical exercises, and even transcribing verses from a digitised manuscript.
"Learners can also listen to Burns' songs with our Spotify playlist and help track his global reach with our interactive map. It's an innovative way to teach Burns, reaching out to learners across the globe and enabling them to find out more about Burns as poet, songwriter, and international celebrity in a manner that fits around their other commitments."
For those completing the Burns MOOC who wish to continue with their Robert Burns studies, the University of Glasgow is developing an online paid for course, which will have eight blocks of material as opposed to three, offering the expertise and resources available from the world renowned Centre for Robert Burns Studies.
---
For more information contact Jane Chilton at the University of Glasgow Communications and Public Affairs Office on 0141 330 3535 or email jane.chilton@glasgow.ac.uk
First published: 19 January 2016