UofG welcomes international leaders of tomorrow
The Bute Hall, which has seen past and present leaders pass through its portals over the decades, was last week the venue for a cadre of international leaders of tomorrow.
A reception was held for CSCLeaders (sp. corr), a global leadership programme for 100 exceptional senior leaders selected each year from governments, businesses and NGOs (non-governmental organisations) across the 53 countries of the Commonwealth, and 33Sixty, a leadership programme for young leaders of the Commonwealth aged between 18 and 25.
CSCLeaders is a partnership between the international leadership development organisation Common Purpose and HRH The Duke of Edinburgh's Commonwealth Study Conferences (UK Fund).
Each year, a challenge is set for the participants. This year's is: "What would produce a step change in how the public, private and not-for-profit sectors work together?"
Among the 100 selected participants in CSCLeaders is Professor Andy Furlong, Dean for Research for the College of Social Sciences at the University. The second part of the CSCLeaders conference will be held in two other Commonwealth cities – Accra, Ghana, and Singapore.
It is hoped that by working and learning together, the participants will:
Develop sustained broader horizons
Develop a greater ability to thrive in multiple cultures
Build long-lasting relationships across the globe
Develop a stronger impact beyond their circle of authority.
The 33Sixty and CSCLeaders groups were brought together in Glasgow to encourage cross-generational sharing of ideas.
Professor Neal Juster, Senior Vice-Principal and Deputy Vice Chancellor, hosted the evening. The main speakers were Adirupa Sengupta, Chief Executive of Common Purpose Asia Pacific, and Dr Lena Wilson, Chief Executive of Scottish Enterprise.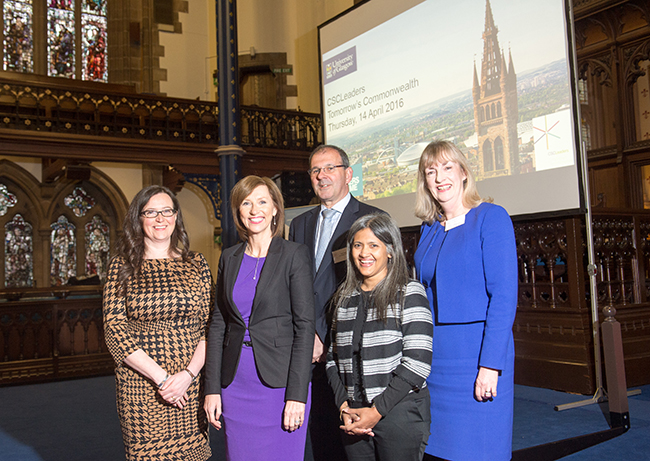 ---
First published: 18 April 2016