Student science publication scoops national award
TheGIST: Glasgow Insight into Science and Technology was honoured as the Best Specialist Publication at the Student Publication Association National Awards ceremony on Saturday 9 April.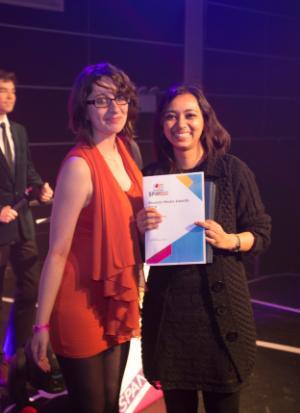 The SPA (Student Publication Association) recognizes various publications every year for their involvement and contribution to the field of journalism.
TheGIST, a student-run science magazine, strives to deliver simple, lucid and interesting articles to all its readers. The magazine has around 200 contributors from undergraduates and post-graduates to PhD researchers who come from various fields of science. The team has also started collaborate with Glasgow's scientists across the university to publish their amazing research.
There were a total of 1035 nominations from 71 publications, and theGIST was shortlisted with other publications from across UK and Ireland for this category.
TheGIST's editors-in-chief are Alisha Aman, who studies in the University's College of Medical, Veterinary and Life Science, and and Aidan McFadden from the University of Strathclyde.
Alisha said: "I am thrilled by this. It is a big recognition for theGIST and all because of our contributors, specialist editors and the board, both past and present especially Emile and Tim, who have worked so hard to produce such amazing articles for theGIST.
"We believe we have made a difference in the field of science journalism, making people realize the importance of science and how interesting it is. And we will always be grateful to University of Glasgow, especially the College of Medical, Veterinary and Life Sciences for always supporting the endeavours of our independent publication."
Aidan said: "I'm incredibly proud of the work done by everyone here at theGIST. The team is extraordinary and thoroughly deserve every accolade presented to them. I'm very fortunate to be surrounded by such talented and, above all, kind people."
Umair Iqbal, TheGIST's finance and event manager, said: ", "The support we have received from the University of Glasgow Chancellor's Fund has been instrumental in our success. Their strong financial backing have enabled us to grow and produce a publication which is truly independent, of substance, and most importantly free for the public to read."
The team and all the contributors are proud of the achievement. In addition to Alisha, Aidan and Umair, TheGIST's board are:
Derek Connor, Submission Editor,
Miruna Costreie, Deputy Submission officer
Matt Mitchell, Head of Web
Jessica Brownes, Head of Copy Editing
Sarah Spence, Snippets Editor
Emily Breen, Head of Design
Katrina Wesencraft, Social Media Officer
Elliot Ross, Head of Videos
Ainsley Morrison, Head of Podcast
The previous heads of theGIST, Ida Emilie Stienmark and Timothy Revell, along with the former board members, had a major contribution in the growth and development of theGIST.
---
Media enquiries: ross.barker@glasgow.ac.uk / 0141 330 8593
First published: 14 April 2016