Distant Voices: Silent Seconds – an EP written by prisoners and musicians sheds light on crime and punishment
Distant Voices, a project which has developed songwriting in Scottish prisons as an innovative rehabilitation programme, will be launched officially on Monday, November 9.
The studio EP "Distant Voices: Silent Seconds" will be launched at the CCA in Glasgow on Monday, November 9, at a gig featuring Louis Abbott, Emma Pollock, Donna Maciocia, Andrew Howie and a number of other musicians, featuring five of the songs written collaboratively with prisoners.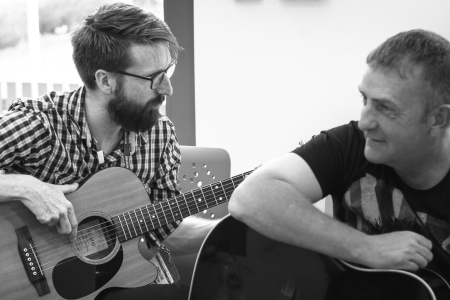 Songwriters Louis Abbott (Admiral Fallow), Emma Pollock (The Delgados), Rachel Sermanni, Andrew Howie, Donna Maciocia and Jo Mango have worked with prisoners, former prisoners, criminal justice social workers, criminologists and a prison officer to write songs, in workshops called The Vox Sessions. The sessions have produced over 100 songs. The gig is the main event in the Distant Voices festival at Glasgow's CCA running from November 5-9. They have been recorded at the Chem19 studio, under the musical direction of Louis Abbott.
Distant Voices is a partnership between Vox Liminis, a charity established two years ago, and the Scottish Centre for Crime and Justice Research (SCCJR), with funding from the Scottish Prison Service, the University of Glasgow and the Economic and Social Research Council.
The EP is already attracting national radio play ahead of release, with radio presenter and Deacon Blue frontman Ricky Ross commenting: "Listen to these songs not because it's such a worthwhile project, though it is, but because you'll love them. 'Breathe Life' will become one of these songs I'll treasure for a long, long time."
One of the prisoners involved in the workshops said: "Everybody's kinda been through the same in here, either losing family or missing people and letting people know that you love them and all that kind of stuff. And for a guy it's hard to express that, so that's how it's good to do it through music."
A prison officer involved in the project added: "I think something like this shows you that when we actually all put it down together and write about our experiences, my experiences personally and emotionally are no different to what the guys have been writing about."
Vox Liminis Director Alison Urie said: "Crime is at heart an emotive topic, but the way we deal with it often ignores the human aspects for everyone involved. Offending both stems from and results in emotional impact for many people - perpetrators, victims, the families of those imprisoned, and staff in prisons and community justice. Songs provide a way to share stories and thoughts that connect with each other's humanity, and help us to see beyond the prevailing narrative of 'goodies and baddies'."
Fergus McNeill, Professor of Criminology & Social Work at the University of Glasgow, explained: "This project was developed in response to research showing that punishment in the criminal justice system is often poorly understood, and that ex-offenders often struggle to stop reoffending because the effects and stigma of punishment often extend far beyond the formal end of sentence. People with convictions are often locked out of employment, housing and social participation; and these are the very things they most need if they are to keep out of trouble.
"It makes little sense for the criminal justice system to invest in rehabilitation programmes if we are not prepared as a society to allow people to move on. What we are trying to do with Distant Voices is to see if we can challenge those attitudes and maybe open doors for ex-offenders."
But the songwriting may also play a part in helping participants to express and develop themselves, according to musician Donna Maciocia: "It was evident that the sessions were very meaningful to the prisoners - they were very vocal about this, and expressed their gratitude regularly throughout. They would say that the experience had made them feel humanised again, part of something, and gave them a meaningful focus whilst in prison. Many would go away between sessions and return with pages of lyric ideas they'd been writing. And for me it has been one of the most fascinating, intense, beautiful, challenging, boundary pushing and rewarding projects of my career."
Stemming from these Vox Sessions is a growing community of former prisoners, criminologists and others working in the criminal justice system who continue to meet to eat, make music and build connections. One former prisoner, now regularly writing songs, commented: "Without being too dramatic, seriously, it has been to an extent life changing for me. I'm happier than I have been for a long time and Vox has played a significant part in that."
Find out more
---
First published: 4 November 2015