New funding to shed light on ancient Pacific textile craft
Unique, preserved textiles from the Pacific Islands are coming under the microscope, courtesy of an innovative collaboration between textile conservation experts at the University of Glasgow, botanists at the Royal Botanic Gardens, Kew, and barkcloth specialists at the Smithsonian Institution in Washington, DC. The project is supported by a major grant from the UK Arts and Humanities Research Council (AHRC) and will run for three years from November 2015.
Experts will investigate the history of Pacific barkcloth (often known as tapa cloth), a material originating from the tropical islands of the Pacific Ocean, made from the inner bark of the paper mulberry tree and other plants. By studying the material closely, it is hoped that we will gain new insight into the lost skills, culture and knowledge associated with this ancient craft.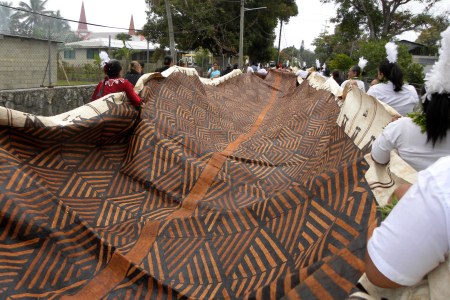 Frances Lennard, Senior Lecturer in Textile Conservation at the University of Glasgow, will lead the project. She says: "Barkcloth is a very distinctive art form and close study of it can tell us a lot, not only about the plants that were used to make the materials, but also about the people who made them.
"We are looking forward to beginning work on this landmark project which will contribute greatly to our rather scant knowledge of the history and techniques at the heart of this traditional skill."
Inhabitants of the Pacific Islands have produced barkcloth for around 5,000 years, for use as clothing, furnishing and ritual masks and garments. However, it gradually fell out of favour as a result of increasing Western influence and today the skill of making barkcloth has been lost in many of the Pacific islands though the material is still used across the region as an expression of cultural identity.
Barkcloth was widely collected by nineteenth century visitors to the Pacific and today there are good collections in western museums. However, barkcloth is often poorly understood. Researchers are interested in finding out whether materials, techniques and designs originated from particular islands, how they were transmitted around the region and the effect of globalisation on this tradition. They will also try to identify which plants were used to make the barkcloth using state-of-the-art techniques including protein and DNA analysis and isotope analysis. The information will benefit museum collections in the West and contemporary makers of barkcloth in the Pacific.
Barkcloth is a complex material and the project's collaboration between three world-class institutions is key to understanding it. The Smithsonian's curator for Oceania, Adrienne Kaeppler, will share her deep expertise in the history and meaning of
Pacific culture, and will lead fieldwork to study tapa where it is still made.
She says: "Barkcloth is a material expression of intangible knowledge and was the basis of objects necessary for ritual, theatre and spectacle in many Pacific societies. Tapa was a sacred, as well as aesthetic product, a main ingredient of theatrical and religious performance. Although today some of these ritual and ceremonial uses of barkcloth exist primarily in memory, the magic of turning bark into cloth is again becoming active and creating new artistic objects."
Botanists at Kew will research the plants used and their properties, drawing both on Kew's historical archives and collections of botanical specimens, and on its scientific expertise and laboratories. Mark Nesbitt, curator of Kew's Economic Botany Collections, says: "Barkcloth is an understudied material. We expect botany to offer many new insights into its manufacture and use, and look forward to sharing the results with barkcloth-using communities in the Pacific."
Conservators from the University of Glasgow's Centre for Textile Conservation and Technical Art History, and the Smithsonian Institution's National Museum of Natural History will share their expertise in caring for tapa cloth and apply it to two of the UK's major collections of historic tapa cloth, The Hunterian in Glasgow, and Kew's Economic Botany Collection. As part of this work they will research the material's properties and develop conservation treatments. Results from the project will be freely shared worldwide via a website, as well as by publications and conferences.
Find out more
The Centre for Textile Conservation and Technical Art History
---
First published: 12 June 2015