Making the Connections between PE and Early Years Learning
Issued: Mon, 02 Feb 2015 09:15:00 GMT
An innovative programme has been launched to support teachers deliver quality physical education, particularly to the very youngest pupils.
It aims to tackle not only the widely-acknowledged issue of childhood obesity, but also the growing problems of poor core strength, less developed fine motor skills and difficulties with physical co-ordination which are affecting some young children's ability to learn in the classroom.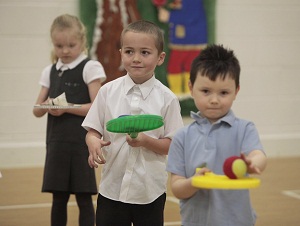 The Connections Project is a collaboration between the University of Glasgow, University of the West of Scotland, South Lanarkshire Leisure and Culture, South Lanarkshire Council, Scottish Borders Council and NHS Lanarkshire.
The teaching resource, launched at St Athanasius Primary in Carluke, has been trialled over the last year by teachers of early years pupils in a number of South Lanarkshire primary schools. It will now be extended to all primary schools in that authority and is expected to be picked up by other local authorities across Scotland.
Theresa Campbell, Senior Lecturer in Physical Education at the University of Glasgow's School of Education, who played a key role in the design and content of the resource, said: "I have been in the privileged position to work with hundreds of teachers across Scotland, as well as student teachers. That has allowed me and my colleagues to learn about the changing landscape in schools in relation to children's developmental levels, especially in the early years.
"There is a common perception among many teachers that children do not exhibit the same levels of physical competence in relation to what in the past we would have taken as expected levels of development, such as the ability to sit still without fidgeting, to sit upright at tables without having to lean and support themselves on desks, tie shoelaces, button jackets and cardigans, and hold pencils and other implements."
She added that it was important to look for the underlying causes of the differences in physical development which teachers were observing – and to identify ways of addressing these issues.
"One reason that can be offered for the differences observed is a range of societal factors impacting on the physical experiences of young children. An over-dependency on car-seats and buggies can have a detrimental effect on the natural development of core strength of young children; in pre-Velcro days, the tying of shoelaces was a required skill at an earlier age and it was essential that children learned how to tie their shoes independently, thus developing their fine motor skills and bilateral integration; family meals around dining tables required children to sit upright at tables, again developing core stability and good balance, and the use of cutlery again developed fine motor skills and bilateral integration," said Mrs Campbell.
It is imperative to avoid resorting to a blame culture, she believes. "What is important is that we alert parents and teachers and others to the possible problems arising from the lifestyle changes and provide advice on ways of supporting children physical development through providing opportunities to fill in some of these gaps."
The Connections resource attempts to do just that by including 42 lesson cards covering learning through exploration, learning through stories and rhymes, and learning through activities. In addition, it has been designed to build teachers' confidence and to be used flexibly by teachers irrespective of their levels of confidence and competence in teaching P.E. It has been very well received by teachers who have already used the resource, said Mrs Campbell.
South Lanarkshire Leisure and Culture's general manager, Gerry Campbell, added: "We aim to work with partners who share a common interest in encouraging higher levels of physical activity and strive to ensure positive experiences for everyone involved in sport and health. We also recognise the importance of focusing on the range of learning opportunities in physical education and we are therefore delighted to have led the project, working closely with the other key partners to tap into the maximum potential of the resource and ensure a successful roll-out and implementation."
SLLC, South Lanarkshire Council's education department and NHS Lanarkshire each provided £10,000 to support the resource.
---
Media enquiries: media@glasgow.ac.uk, 01413303535