Major research project to compare end of life treatment around the world
Funding has been awarded for new research to track the provision of end of life care around the world.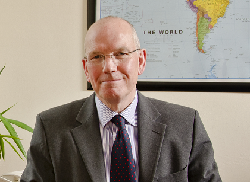 The study, supported by a Wellcome Trust Senior Investigator Award in the Medical Humanities, is entitled: Interventions at the end of life – social, comparative and historical analysis to promote global improvement. It will be the first study of its kind and aims to inform a more sustainable and appropriate end of life interventions at a global level.
The four year Wellcome Trust study is being led by David Clark, Professor of Medical Sociology and Director of the University of Glasgow's Dumfries Campus.
Currently some 56 million people die in the world every year. With population growth and ageing, that figure could rise to 90-100 million in the next 30 years.
The research involves a rigorous assessment of the world's end of life care needs – and will propose strategies for improvement. It will also seek to generate more sustainable and appropriate end of life interventions, across various cultures and settings.
At the heart of the study is the need to redefine the field of social and cultural research relating to end of life care, with the result being an enhanced capacity for research capable of addressing the complex challenge of how to improve end of life interventions around the world as the 21st century advances.
It will take a global perspective to examine approaches of varying types and characteristics, across differing resource settings, geographies and cultures – first to build a typology of interventions and then to conduct in-depth case studies of selected examples.
Professor Clark said: "This award will enable us to build a strong end of life care research team at the University of Glasgow's Dumfries Campus. The generous support of the Wellcome Trust will make it possible to carry out some advanced and ambitious work.
"The world is facing huge challenges in caring for dying and bereaved people. We need to better understand what approaches work well and how people in different parts of the world can learn from one another. We also require some new perspectives and approaches – which is what good research can offer.
"Recruitment to the project - which will require a substantial effort and a committed team, including two postdoctoral researchers and a public engagement officer - starts this month and work will begin in March 2015".
---
Media enquiries: nick.wade@glasgow.ac.uk / 0141 330 7126
First published: 4 September 2014