The 2014 legacy: what will it mean for Glasgow?
What will Glasgow's 2014 legacy be? While the Glasgow 2014 Commonwealth Games are first and foremost a festival of sport and a showcase of the city and nation, the Games are underpinned by expectations that they deliver various long-term legacy outcomes.
But what is legacy, what can it achieve, why do we argue about it and what lessons can we learn? The answers to these questions are vital for Glasgow and other cities around the world as they seek to redefine and regenerate their cities and regions for the 21st century.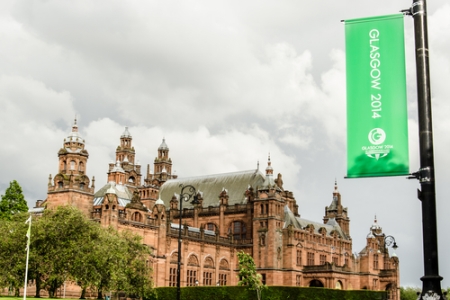 The University of Glasgow this week hosted an expert panel debate on the different meanings of legacy and what we should do next to help secure the regeneration of the city.
This was the first meeting of the newly-launched international legacy research network which aims to exchange knowledge about lessons learned about legacy across its different dimensions - failure as well as success. It aims to work with cities around the world and their research-intensive universities. The network starts with Glasgow 2014 but will encapsulate all large sports and cultural events across the world for which legacy matters.
The network will host its inaugural international conference in the Mitchell Library in mid-October 2015.
The following three experts offered their individual perspectives on legacy:
Dr Bridget McConnell, Chief Executive, Glasgow Life;
Ade Kearns, Professor of Urban Studies at the University of Glasgow, who is leading the research programme Go Well: Community Health and Wellbeing Impacts of Neighbourhood Regeneration and Housing Investment in Glasgow;
Dr Robert Rogerson, Senior Lecturer in Urban and Social Geography at the University of Strathclyde, who focused on legacy research issues.
The session was chaired by Professor Kenneth Gibb, Director of Policy Scotland at the University of Glasgow and convenor of the Legacy Research Network.
He said: "More and more cities around the world are contemplating mega-events. Glasgow 2014 has different measures of legacy embedded in the project in an unprecedented way. At the same time, Glasgow City Council and the Scottish Government have established challenging evaluation frameworks to assess the success (or otherwise) of legacy. We are establishing a new international network because we are interested not only in the contribution the Games and their legacy make to the regeneration of the city but in exchanging experience, lessons and knowledge about legacy with other cities and academics around the world."
Dr McConnell said: "From the earliest days of bidding for the Games, we've been planning for a real and lasting legacy and we're already seeing people benefiting, with new jobs, skills and experiences, created as a result of hosting the Games. The new and upgraded venues are primarily for local people and have already demonstrated their popularity long before they play host to the elite athletes. The cultural programme is a world-class festival, with something for everyone, and will attract new audiences and engage with people in a way never seen before.
"Our Host City Volunteers programme will open up volunteering to a wide range of people, many of whom are being supported by us to overcome significant personal barriers. Glasgow Life services, voluntary sports clubs and the arts sector have planned their follow-through after the Games, to stay connected to new audiences. The Games, as important as they are, represent a milestone, not a destination in Glasgow's continuing ambition to be a world-class city for both citizens and visitors."
Find out more
---
Media Enquiries: Liz.Buie@glasgow.ac.uk/ 0141 330 2702
Notes to Editors
The Legacy Research Network (LRN) steering committee is made up of Ken Gibb (convenor), Josef Konvitz (Honorary Professor, University of Glasgow), Mark O'Neill (Glasgow Life), Jane Thomson (Glasgow City Council), Robert Rogerson (University of Strathclyde), Linda Christie (University of Glasgow), Julie Clark (University of Glasgow), Lesley Sawers (Glasgow Caledonian University) and Des McNulty (University of Glasgow).
The LRN grew out of an innovative 2014 legacy research partnership formed by a collaboration between the three universities in Glasgow, Glasgow City Council and Glasgow Life. The LRN has also benefited from support from the University of Glasgow's knowledge exchange fund, the College of Social Sciences and Policy Scotland.
First published: 18 July 2014