World rankings rise for the University of Glasgow
The University of Glasgow has attained its highest ever world ranking, rising three places from 54 to 51 position in the latest QS survey which was released today (Tuesday 10 September 2013).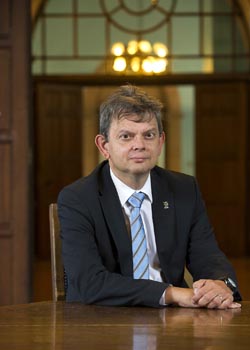 Professor Anton Muscatelli, Principal and Vice Chancellor of the University of Glasgow said: "I am delighted that our progress in these rankings over recent years has continued and whilst we should always be cautious about league tables, this is once again our best ever showing. The QS World Rankings are significant as they confirm the reputation of Glasgow as a world leading research intensive university. In the context of recent Scottish Government funding announcements this is a very pleasing result for the University of Glasgow."
The QS World Ranking follows on from a significant funding award which was announced in May 2013. An additional £5M, comprising £2.5M from the Scottish Funding Council matched by a similar sum from the University of Glasgow, was provided to boost world leading research.
The Cabinet Secretary for Education Michael Russell MSP said, "We welcome the University of Glasgow's success in achieving its highest ever QS world ranking. This reflects the impact of our long-term support of exceptional research at the University. We also recognise the contribution of staff and students to this success in an increasingly competitive world."
Professor Muscatelli added, "Our strength is not only shown in league tables, it also impacts on Scotland's economic and research landscape. The Global Excellence Initiative has allowed us to recruit some of the brightest academic and research talents from across the world, boosting the quality and depth of what we offer across the cultural, political, engineering and medical sectors.
"We are proud that the work we are doing supports the Scottish Government's targets to create a fairer, stronger and wealthier Scotland.
"The University Glasgow is one of the world's greatest research-intensive Universities, and the additional funding announced earlier in the year and the QS rankings rise noted today further underlines our success."
---
Notes to Editors:
For more information contact the media relations team at the University of Glasgow – media@glasgow.ac.uk 0141 330 3535
First published: 9 September 2013