Beatson Institute appoints Royal Society Dorothy Hodgkin Fellow
Dr Julia Cordero has been announced as one of five new Dorothy Hodgkin Fellowship appointments made by the Royal Society. Dr Cordero will take up her new post at the Beatson Institute for Cancer Research at the start of October.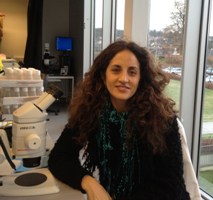 The Dorothy Hodgkin Fellowship scheme supports outstanding scientists and engineers at an early stage of their career. It is designed to help successful candidates progress to permanent academic positions across the UK. It is aimed specifically at researchers who require a flexible working pattern and is particularly popular with female scientists.
Dr Julia Cordero will be examining the regulation of stem cell function during tissue homeostasis and transformation.
---
For further information or to arrange an interview with Dr Julia Cordero please contact the Royal Society press office.
NOTES FOR EDITORS
For further information contact:
Chloe McIvor
Press and Public Relations
The Royal Society, London
Tel: 020 7451 2514
E-mail: chloe.mcivor@royalsociety.org
The Royal Society is a self-governing Fellowship of many of the world's most distinguished scientists drawn from all areas of science, engineering, and medicine. The Society's fundamental purpose, as it has been since its foundation in 1660, is to recognise, promote, and support excellence in science and to encourage the development and use of science for the benefit of humanity.
The Society's strategic priorities emphasise its commitment to the highest quality science, to curiosity-driven research, and to the development and use of science for the benefit of society. These priorities are:
1. Promoting science and its benefits
2. Recognising excellence in science
3. Supporting outstanding science
4. Providing scientific advice for policy
5. Fostering international and global cooperation
6. Education and public engagement
For further information please visit http://royalsociety.org. Follow the Royal Society on Twitter at http://twitter.com/royalsociety or on Facebook at http://www.facebook.com/theroyalsociety .
First published: 2 October 2013