Celebration of the University of Glasgow's talented athletes
The University of Glasgow hosted an inaugural reception to honour the recent success of our students in sport and to celebrate the selection of this year's sport bursars.
The event, held in the university chapel on Tuesday 19th November, celebrated the significant number of talented athletes at the University all looking to combine a first class degree while competing at national and international levels in their sport.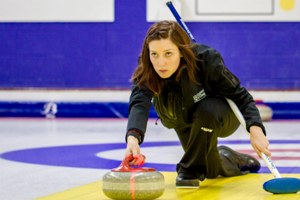 One of the athletes is Laura Muir, current 3rd year Veterinary Medicine student, who has already been selected to compete in the 800m at the Commonwealth Games in Glasgow in 2014.
Another is Lauren Gray who won the World Curling Championship earlier this year.
Euan Smith, Assistant Director,Sport and Recreation Service said "This is a fantastic opportunity to celebrate the success of many of our talented athletes that form part of our student body and alumni. We wish them all the very best in the coming year which will be a fantastic year of sport for the city and the University".
---
For more information contact Cara MacDowall, cara.macdowall@glasgow.ac.uk or call 0141 330 3683
Below is a full list of students who are receiving bursaries
| | |
| --- | --- |
| Athletics | Laura Muir |
| Taeknowdo | Hazel Bracken |
| Basketball | Calum Nicol |
| Swimming | Camilla Hattersley |
| Athletics | Jo Patterson |
| Karate | Stephanie Connell |
| Kite Surfing | Holly Kennedy |
| Rowing | Emma McDonald |
| Rugby | Megan Gaffney |
| Badminton | Matthew Carder |
| Track Cycling | Kenny Ayre |
| Rowing | Rebecca Lightfoot |
| Figure Skating & Ice Dance | Ashley mitchell |
| Karate | Giovanni Rossi |
| Cricket | Samantha Haggo |
| Volleyball | Caitlin McEwan |
| Volleyball | Kirsty McLean |
| Squash | Mhairi Charlton |
| Hockey | Fiona Bruce |
| Hockey | Michael McKenzie |
| Basketball | Aljosa Alilovic |
| Lacrosse | Aidan Bundy |
| Lacrosse | Matthew Hill |
| Cycling | Stuart Wilcox |
| Karate | Marc Macaulay |
| Table Tennis | Lynda Flaws |
| Athletics | Lachlan Oates |
| Athletics | Kathryn Pennel |
| High Jump | Nikki Manson |
| Curling | Rachel Hannen |
| Athletics | Andrew Murphy |
| Rugby | Ben Johnston |
| Curling | Lauren Gray |
First published: 19 November 2013