University of Glasgow academic wins prestigious entrepreneurship award
A simple 30-minute test for infections could revolutionise the detection and treatment of common diseases, including chlamydia, gonorrhoea and malaria, thanks to a new device developed by a Research Fellow at the University of Glasgow's Division of Biomedical Engineering.
Dr Julien Reboud, 33, now has the opportunity to take his patented SAW Dx system to market as joint winner of this year's Royal Academy of Engineering ERA Foundation Entrepreneurs Award worth £20,000 to invest in commercialising his research. The ERA Foundation established the award to identify entrepreneurial researchers, working in UK universities in the field of electro-technology, who are at an early stage in their career. He will receive the award at the Academy's Awards Dinner in London on 17 July, together with Dr Reuben Wilcock of the University of Southampton, who has also won an ERA Foundation award for his work on domestic energy monitoring.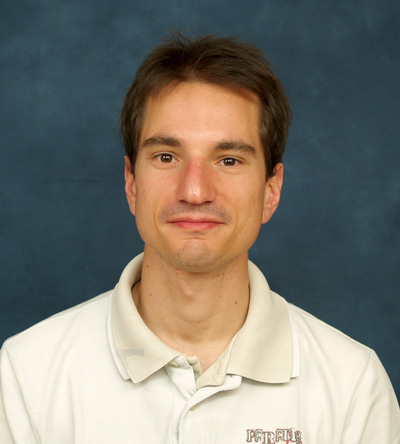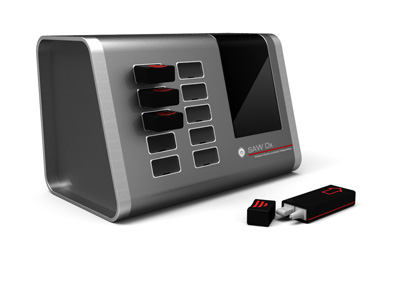 SAW Dx (Sound Diagnostics Anywhere) enables rapid detection of diseases using advanced digital diagnostics on low-cost disposable chips. It scores over existing lab-on-a-chip detection systems by integrating different analytical functions so that multiple assays can be done at the same time with the sample of blood or urine kept in one place.
Ultrasound is the key to Dr Reboud's new technology. In a similar way to earthquake waves on the surface of the earth, ultrasound can transfer large amounts of energy across the surface of a material. When it encounters a liquid sample the ultrasound can be made to agitate it in a very specific way, depending what function is needed – for example temperature cycling of the sample or opening of the cells to release their DNA. The functions required are enabled by the use of microstructures on the surface of the chip that work as acoustic holograms that shape the sound. For a single structure, different 'shapes' are enabled at different frequencies of the sound waves (or pitches), providing a method to switch between different functions, on a single disposable chip.
A prototype device Dr Reboud has built, with the help of Prof. Jon Cooper and Dr. Rab Wilson from the University of Glasgow, for trials on sexually transmitted infections (STIs) has a reader about half the size of a shoebox and uses disposable cartridges, the size of a conventional glass slide, for the sample. Only a drop of blood or a swab would be required as a sample and the test results should be available in about 30 minutes, compared with 6-10 days' laboratory testing, when the samples have to be sent away to a central facility.
"Our aim is to deliver a diagnosis of the microbial infection within 30 minutes," says Dr Reboud. "This would be a crucial breakthrough, enabling the patient to be treated during one visit to a clinic, breaking the cycle of infection and transmission. We have made significant progress in developing a prototype and optimising the diagnostics, though more work is needed."
The commercial potential for this innovation is huge in the developed world – the molecular diagnostic test market was worth nearly $5 billion in 2010. SAW Dx could potentially meet the growing demand for home tests for STIs - the Centers for Disease Control and Infection estimate that there are 19.7 million new STIs every year in the U.S alone.
SAW Dx could also help the fight against malaria and has already attracted funding from the Gates Foundation. Malaria is difficult to detect and currently relies on counting diseased cells on a slide. Using ultrasound to spin a drop of blood, SAW Dx can aggregate the infected cells, enriching their concentration up to 1000 times to enable rapid detection. The team has also shown that they can perform a complete molecular assay on the platform, using mice as models (Reboud J. et al, PNAS 2012 109 (38) 15162-15167).
"We have demonstrated that we can identify malaria in a drop of blood on a device powered from the rechargeable battery of a mobile phone," says Dr Reboud. "Again, this rapid hand-held test could help to break the pattern of infection and transmission by enabling both diagnosis and treatment in one go in remote environments."
Dr Andrew Winter, Consultant in Sexual Health and HIV, NHS Greater Glasgow and Clyde, said "Julien's work will transform the patient experience in sexual health clinics. With accurate and rapid near-patient molecular testing for STIs such as herpes, syphilis and gonorrhoea patients will no longer have to wait for days to find out if they have a condition. The low-power and robust technology means that it could be deployed in resource-poor and remote settings, where diagnostic testing is simply not available."
Professor Sir Richard Brook OBE FREng, Chairman of the ERA Foundation, says "This work is a fine example of the excellent research being done in British universities – as the Academy is currently highlighting through its Engineering for Growth campaign. We are delighted to support Dr Reboud in developing SAW Dx, with its exciting potential for disease monitoring and healthcare around the world."
Find out more
---
Notes for Editors
Founded in 1976, The Royal Academy of Engineering promotes the engineering and technological welfare of the country. Our fellowship – comprising the UK's most eminent engineers – provides the leadership and expertise for our activities, which focus on the relationships between engineering, technology, and the quality of life. As a national academy, we provide independent and impartial advice to Government; work to secure the next generation of engineers; and provide a voice for Britain's engineering community.
The ERA Foundation aims to contribute to the economic vitality of the UK by supporting activities that will help to bridge the gap between research and exploitation in the broad field of electrotechnology. The Royal Academy of Engineering ERA Foundation Entrepreneurship Award and £40,000 prize is made possible by the support of the Foundation and was established to identify entrepreneurial researchers working in UK universities, in the field of electro-technology, who are at an early stage in their career. The award is presented to an individual or team annually, who demonstrate considerable entrepreneurial promise and the potential to benefit the UK's future prosperity. In addition to the first prize, two additional cash prizes of £2,000 will be presented to runners-up.
For more information please contact: Ross Barker at the University of Glasgow Tel. 0141 330 8593; email: ross.barker@glasgow.ac.uk or Jane Sutton at the Royal Academy of Engineering Tel. 020 7766 0636; email: jane.sutton@raeng.org.uk
First published: 21 May 2013