Fellowship honour for Professor Tessa Holyoake
Leading leukaemia researcher Professor Tessa Holyoake has been made a Fellow of the Academy of Medical Sciences.
Prof Holyoake is a professor of experimental haematology and Director of the Paul O'Gorman Leukaemia Research Centre at the University of Glasgow, specialising in the Cancer Stem Cell, working from the model of chronic myeloid leukaemia (CML).
She leads a research group of 10 staff at Glasgow and is on the editorial boards of the British Journal of Haematology, Blood, and Clinical Leukemia and several national and international committees concerning CML and stem cell research.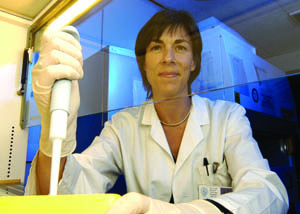 The new Fellows will be formally admitted to the Academy at a ceremony in London on Wednesday 26 June.
Professor Holyoake said: "I am honoured to have been admitted to the Academy of Medical Sciences and for my work to be recognised in this way is fantastic."
Professor Sir John Tooke, President of the Academy of Medical Sciences, said: "The Academy of Medical Sciences exists to promote the best of medical science for the benefit of society. Our new Fellows are recognised for their exceptional contribution and collectively represent the array of talent present in the UK medical science community.
"They will further strengthen the Academy and I look forward to working with them over the coming years."
Prof Holyoake is among 12 women Fellows to be admitted this year, which at 27% is almost double the percentage of female professors in the biosciences.
The Academy of Medical Sciences was established in 1998 and is the independent body representing the diversity of medical science. It is one of the UK's five National Academies and is an integral part of the UK's strong biomedical research community, working closely with funders, medical research charities, the NHS and the private sector.
---
For more information contact Stuart Forsyth in the University of Glasgow Media Relations Office on 0141 330 4831 or email stuart.forsyth@glasgow.ac.uk or Holly Rodgers, Communications Officer, Academy of Medical Sciences, on 0203 176 2183 or holly.rogers@acmedsci.ac.uk
First published: 9 May 2013