New sound work set to bring ruins to life
An audio collage which brings new life to the ruins of St. Peter's Seminary and Kilmahew Woods by Cardross in Argyll is set to have its first public airing at an event on Saturday 23 March.
Dr Michael Gallagher, of the University of Glasgow's School of Geographical and Earth Sciences, worked in partnership last year with with Kilmahew heritage, landscape and conservation groups and Glasgow-based arts charity NVA to produce Kilmahew Audio Drift No. 1, an audio work about the past, present and possible future of the site.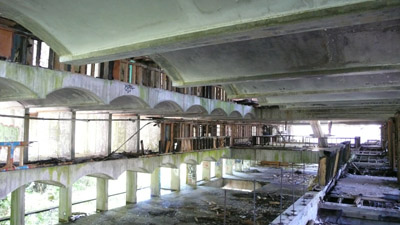 St Peter's Seminary is one of just a handful of listed buildings built in Scotland in the postwar period. Designed by modernist architects Gillespie, Kidd and Coia and considered a classic example of the style, it was used as a seminary and then as a drug rehabilitation centre between 1966 and the late 1980s, when it was closed. It has since fallen into a state of extreme disrepair.
The 48-minute Kilmahew Audio Drift No.1 weaves together stories from people with connections to Kilmahew and sounds from the site to produce an audio collage. Those contributing interviews to the piece include seminarians who were amongst the first and last to attend the Seminary, representatives from NVA discussing the landscape and architecture, and people from nearby Cardross and Renton discussing their personal relationships to the site.
In contrast to more traditional audio guides, visitors to the event will have the chance to explore the site for themselves, walking paths as they choose, taking in the landscape, its ruins and relics while listening to Kilmahew Audio Drift No 1 on their MP3 player via headphones.
Dr Gallagher said: "We know this site has been populated for close to a thousand years and has long-standing spiritual and religious connections. There was a pagan sanctuary here, followed by an early Christian Church, then more recently in the Victorian era Kilmahew House stood here before the building of St Peter's Seminary in the 60s.
"Remnants of the past are visible all over the site, with old artifacts easily found when walking around. Looping paths wind through the woodlands which overlap and intersect, and visitors can spend hours following them around.
"Kilmahew Audio Drift No 1 responds to the geography of the site through sound. Voices drift in and out of the mix, overlapping each other before going off in a different direction entirely. Listening to it whilst walking through the woods, at points it's hard to know whether the sounds you're hearing are inside or outside the headphones. The mixture of environmental sounds and voices can be quite a powerful experience."
The work has been produced as part of The Invisible College, an Arts and Humanities Research Council (AHRC)-funded partnership programme. The Invisible College is a research project between NVA and the universities of Glasgow, Edinburgh and Strathclyde, inspired by 17th-century natural philosopher and scientist Robert Boyle's concept of the same name, which described a group of intellectuals dedicated to furthering knowledge through experimental investigation.
Cast as a future field station, The Invisible College is an international learning network which will host a wide range of events, exhibitions and interventions in response to the signature buildings, productive landscape and extensive historic grounds of Kilmahew. The project partners are working closely with local people to build connections between academic, artistic, local, national and international communities of interest.
Breaking from traditional higher education models, The Invisible College takes learning into an inspiring outdoor place, and encourages mixing of different ideas and perspectives, placing the local knowledge of residents and school children on an equal footing with the concepts of academics and professionals.
2012 saw the first lively Invisible College Open Days held on site, with a programme built around three themed research workshops. Each workshop culminated in an open public talk which shared the research findings so far, along with presentations from invited guest speakers.
Angus Farquhar, Creative Director at NVA, said: "This is the latest in a series of events the Invisible College has arranged in and around St Peter's Seminary and Kilmahew woodlands.
"Kilmahew Audio Drift No. 1 brings the past and present together, weaving historical reminiscence with the flow of debate, thought and argument which is now shaping the site's future as The Invisible College."
The Kilmahew Audio Drift No. 1 event will be held on Saturday 23 March at 3pm. Participants should bring their own MP3 players (e.g. iPod, iPhone or similar) with the audio drift downloaded onto them. Attendees are asked to meet from 2:30pm at the Cardross Primary School, G82 5HD. The Kilmahew site is rough and muddy underfoot, so attendees are asked to wear appropriate footwear and clothing, as well as bring their own food and drink. Please note there are no toilets or facilities on site. The distance and terrain involved mean that walking the site is not suitable for those with limited mobility, but attendees could still listen to the audio.
Please also note that there is no access to the Seminary due to hazardous levels of asbestos in the buildings.
Kilmahew Audio Drift No 1 can be downloaded free of charge from http://www.theinvisiblecollege.org.uk/AudioDrifts. For more information or help, contact Dr Gallagher on Michael.Gallagher@glasgow.ac.uk.
For more information on The Invisible College, visit www.theinvisiblecollege.org.uk
---
ENDS
For more information contact Ross Barker in the University of Glasgow Media Relations Office on 0141 330 8593 or email ross.barker@glasgow.ac.uk
First published: 19 March 2013