World's oldest comic book takes centre stage at international comic book conference
Comic books are taking centre stage in a major, week-long academic conference being held in Glasgow.
Over 100 speakers are presenting at the 'International Graphic Novel and International Bande Dessinée Society (IBDS) Joint Conference 2013', which brings together academics, authors and experts from around the world and runs from 24 – 28 June.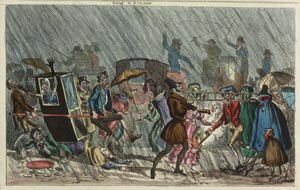 On Tuesday 25 June, new research is being presented which traces the origins of the world's first comic book to Glasgow in the 1820s. Comic book historians have found evidence that 'The Glasgow Looking Glass' (later to become 'The Northern Looking Glass'), first published in Glasgow in 1825, predates all other known modern comics.
'The Glasgow Looking Glass' cast a satirical eye over nineteenth-century Scottish society, poking fun at the fashions and politics of the era. It is commonly considered to have been the predecessor of Punch and a prototype for the topical graphic journalism publications, a genre that became increasingly popular throughout the Victorian era.
On Friday 28 June the conference will be closed with a keynote lecture by Jean-Yves Ferri, author of the forthcoming 'Asterix chez les Pictes', the latest in the long running 'Asterix' comic book series, which is due for release in October this year.
'Asterix chex les Pictes' is the first book in the 'Asterix' series written by someone other than René Goscinny or Albert Uderzo. It tells the story of Asterix's journey to Scotland, where they meet the Picts. It is only the trio's second journey to Great Britain, after visiting England in 'Astérix chez les Bretons'.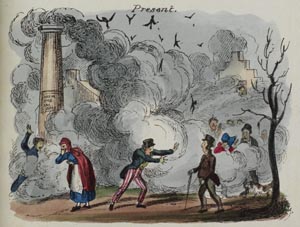 Grant Morrison MBE will open the conference on Monday 24th June with a keynote lecture entitled 'Scottish Comics' which will address the impact of Scottish culture and creators on the international comics scene.
The conference will not only touch upon the origins of the genre but will also be asking broader questions relating to textual and image history, the cultural status of comics today, the emergence of an international comics traditions and how the genre reflects national identities up to the present day.
Dr Laurence Grove, conference organiser from the University of Glasgow, said: "We are delighted the University of Glasgow is playing host to so many distinguished scholars, authors and experts of the genre. Work being presented at the conference shows that not only is Scotland, and particularly Glasgow, right at the forefront of the comic book industry today, but it has been so throughout history.
"By hosting major events such as this we are really helping to reconceptualise comic books; we're changing the cultural cannon in a way."
---
For more information, contact Nick Wade in the University of Glasgow's Media Relations Office:
01413307126
Notes for editors:
You can read more about the programme and abstracts for speakers on the conference website: http://www.arts.gla.ac.uk/ibds/.
Coverage:
http://www.itv.com/news/2013-06-24/worlds-oldest-comic-book-published-in-scotland/
http://www.scotsman.com/lifestyle/books/features/world-s-first-comic-book-from-glasgow-in-spotlight-1-2974087
http://timesofindia.indiatimes.com/world/uk/1825-satire-is-worlds-first-comic-book/articleshow/20736477.cms
First published: 21 June 2013