Monty Python star, Terry Jones, awarded Honorary Degree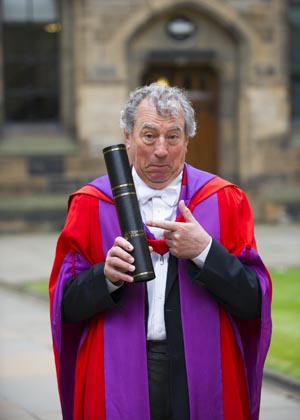 Author, actor and film director Terry Jones has been awarded an Honorary Doctorate by the University of Glasgow, at a ceremony on Friday 21 June.
In evening Terry also presented a lecture at the University of Glasgow entitled 'Chaucer in the 21st Century'.
The former 'Monty Python's Flying Circus' star received a Doctorate of Letters (DLitt) for his contribution towards film and television and for his academic research around medieval history and literature.
Terry's lecture presents his own research findings which address the images of the Canterbury pilgrims that appear in the Ellesmere manuscript of Chaucer's 'Canterbury Tales'. Focusing in particular on the knight, the monk and the friar, Terry will argue that these images were deliberately censored and will speculate on some of the motives and consequences for this.
Terry Jones said: "I am proud to be awarded the title of Doctor of Letters from the University of Glasgow and would like to offer my thanks for the consideration."
Professor Graham Caie, Vice-President, Royal Society of Edinburgh, Professorial Research Fellow, University of Glasgow, said: "The University of Glasgow is pleased to be able to award Terry Jones with an honorary degree of Doctor of Letters.
Terry has achieved in so many fields what more than a dozen might reasonably expect to do in a lifetime: he is an academic, screenwriter, actor, film director, author, political commentator and comedian. He possesses the gift of making scholarship exciting and, with great enthusiasm, he opens medieval studies to a broad audience through his books, TV programmes and films. Above all, he's taught us all to 'only look on the bright side of life!'"
As a film director Terry co-directed (with Terry Gilliam) 'Monty Python and the Holy Grail', and directed himself co-wrote and starred in 'The Life of Brian', 'The Meaning of Life', 'Erik the Viking' and 'The Wind in the Willows'. He directed 'Personal Services' and he also wrote the screenplay for Jim Henson's 'Labyrinth'.
Television credits include: 'Crusades', 'Gladiators: the Brutal Truth', 'Ancient Inventions', 'Hidden Histories', 'Medieval Lives', 'The Story of One' (2005), 'Barbarians', 'The Great Map Mystery' (BBC 2007).
He is author of: 'Fairy Tales', 'Fantastic Stories', 'The Saga of Erik the Viking', 'Nicobobinus', 'The Curse of the Vampire's Socks', 'The Knight and the Squire', 'The Lady and the Squire', 'The Tyrant & The Squire'.
His academic works include: 'Chaucer's Knight' (1980), 'Who Murdered Chaucer?' (2003). 'The Image of Chaucer's Knight in Speaking Images: Essays in Honor of V.A.Kolve' (Pegasus Press, Asheville, North Carolina, (2001), 'Was Richard II A Tyrant?' in 'Fourteenth Century England V', ed. Nigel Saul (Boydell Press, 2008).
The full list of Honorary Degrees presented in 2013 are listed below.
On the 12 June Honorayr Degrees were awarded as follows:
DOCTOR OF LAWS (LLD)
The Rt Hon Lord HOPE
Supreme Court Judge
The Rt Hon Lord REED
Supreme Court Judge
Sheriff Principal James TAYLOR
Sheriff, Glasgow Court
DOCTOR OF LETTERS (DLitt)
Steven MOFFAT
Award Winning Dramatist
Professor Heather MUNROE-BLUM
Principal and Vice-Chancellor, McGill University
DOCTOR OF SCIENCE (DSc)
Professor Asma ISMAIL
Deputy Vice-Chancellor, Institute for Research in Molecular Medicine, University Sains Malaysia
Professor Srinath REDDY
President of the Public Health Foundation, India
Professor Sir Mark WALPORT
Chief Scientific Adviser to HM Government and Head of the Government Office for Science.
The following Honorary Degrees awarded at other ceremonies throughout June:
DOCTOR OF LAWS (LLD)
Katherine GRAINGER – 20 June 4pm
Sportswoman
The Rt Hon Lady PATON – 20 June 4pm
Judge, Court of Session
DOCTOR OF LETTERS (DLitt)
Christopher BROOKMYRE – 27 June 4pm
Author
Muriel GRAY – GSA 14 June
Broadcaster, Author and Businesswoman
Terry JONES – 21 June 11am
Writer, Film Director and Actor
Professor Christain KAY – 27 June 11am
Emeritus Professor of English Language, University of Glasgow
Aonghas MACNEACAIL – 28 June 11am
Gaelic Poet
Professor Jean-Luc MARION – 27 June 11am
Professor of the Philosophy of Religions and Theology, University of Chicago
Jonathan SAUNDERS – GSA 14 June
Fashion Designer
DOCTOR OF SCIENCE (DSc)
Professor Barry BARISH – 25 June 4pm
Linde Professor of Physics, California Institute of Technology
Professor Roger CROFTS - Dumfries 2 Jul
Chairman, IUCN World Conservation Union UK Committee
DOCTOR OF VETERINARY MEDICINE & SURGERY (DVMS)
John ROSS – 24 June 11am
Chairman, Moredun Foundation
---
For more information please contact Nick Wade ini the University of Glasgow's Media Relations Office on 01413307126 or on nick.wade@glasgow.ac.uk.
First published: 21 June 2013