University of Glasgow receives funding for world-leading stratified medicine Innovation Centre
Published: 23 April 2013
The University of Glasgow is set to boost its contribution to global medical research and the Scottish economy following the announcement of funding to build a major research centre.
The University of Glasgow is set to boost its contribution to global medical research and the Scottish economy following the announcement of funding to build a major research centre.
The Scottish Funding Council is providing £8m over five years to back the creation of the £20m Stratified Medicine Scotland Innovation Centre (SMS-IC) at the new South Glasgow Hospitals Campus. The SMS-IC will also involve a consortium of other universities, NHS Scotland, and industry partners. Construction work is expected to begin in November this year, with a fully-operational centre due to open in September 2015.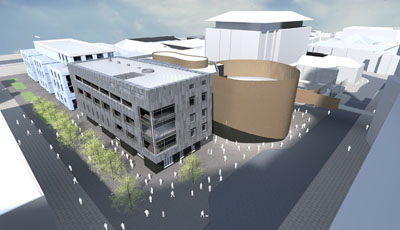 The SMS-IC is one of three Innovation Centres officially announced today (Tuesday 23 April) by First Minister of Scotland Alex Salmond MSP at an event at the South Glasgow Hospitals Campus. The others are the University of Glasgow's Innovation Centre – Sensor and Imaging Systems and the University of Edinburgh's Digital Health and Care Innovation Centre.
Stratified medicine involves examining the genetic makeup of patients and their differing responses to drugs designed to treat specific diseases. By building up an understanding of the 'strata' of responses and the genetics of the diseases, medical researchers hope to create more personalised and effective forms of treatment.
There is a clear economic argument for the development of stratified medicine as well as the medical benefits. Of the £595bn global spend for pharmaceuticals in 2011, an estimated £393bn was used for therapies which did not produce the desired effect.
The SMS-IC will focus primarily on developing new forms of treatment for chronic diseases, including cancer, stroke, diabetes, rheumatoid arthritis and respiratory and cardiovascular diseases.
Professor Anna Dominiczak, Vice-Principal and Regius Professor of Medicine at the University of Glasgow, said: "The Stratified Medicine Scotland Innovation Centre is a once in a lifetime opportunity to combine our strengths in life science industry, NHS health delivery and academic medicine to produce world-leading innovations for treatment of chronic diseases.
"£124bn is spent in the UK on healthcare each year, with medicines accounting for £12bn of the total. Even a small increase in efficiency created through better targeting of treatment would save the UK tens of millions of pounds each year.
"The South Glasgow Hospitals Campus is the ideal location for the Innovation Centre, as it is one of the largest hospital facilities in Europe and located in an area with a high prevalence of chronic diseases.. It will also be linked physically to the planned Clinical Research Facility for stratified clinical trials.
"Researchers will benefit from access to sequenced human genomes combined with clinical data, enabling world-leading developments in stratified medicine in chronic diseases."
The First Minister said: "Scotland has always been a world leader in innovation and this new funding of £30 million, made through the Scottish Funding Council, for the innovation centres reinforces the Scottish Government's commitment to Science and technology and secures Scotland's place as a world leader in life sciences, innovative technology, ideas and development.
"This is an exciting new collaboration between all parts of public life, with Scottish industry, Higher Education Institutions, Multinationals, our small and medium sized enterprises and our public sector partners working together to provide solutions to demand-led problems facing industry in Scotland by supporting innovation for future growth.
"Innovation Centres offer game changing opportunities for collaboration between our academic and business base. The investment and partnership model is unique and their potential for growth is huge."
A recent independent economic impact assessment forecast that the Centre could generate up to 334 jobs and up to £68m to the Scottish economy over its inital five-year funding period. The Centre aims to attract sufficient research sponsorship from industry partners to allow it to become self-sustaining within five years.
The Universities of Aberdeen, Edinburgh and Dundee will also be involved in the research conducted at the SMS-IC, along with NHS Greater Glasgow and Clyde, NHS Grampian, NHS Lothian and NHS Tayside.
The SMS-IC consortium has already secured a commitment of £2m in cash and £4.6m in kind investment for the project from core business partners, including SMEs. The key business partners are Life Technologies and Aridhia.
Peter Silvester, President Europe, Middle East & Africa of Life Technologies, said: "The Stratified Medicine Scotland Innovation Centre is a ground breaking project that represents a real opportunity to change the way healthcare will be practised.
"Life Technologies will provide facilities and the genetic analysis platform with its semiconductor based, Ion ProtonTM DNA sequencing technology, at a speed, accuracy and cost that would have been impossible just a few months ago.
"The vision for this project is to combine an individual's detailed genomic data with more traditional patient information to enable faster, more accurate and effective clinical decisions. This is an inflection point in the history of medical research, and there is much more to come."
David Sibbald, Chairman and CEO of Aridhia, said: "The Stratified Medicine Scotland Innovation Centre is a globally significant program to determine the future of healthcare in the 21st century and Aridhia is very proud to be part of it. With the cost of sequencing an individual's genome continuing to fall rapidly, we need to understand how to find and unlock the associations with clinical and patient data in order to improve diagnosis and to personalise the treatment of disease to the individual patient. Do this, and we can change the way in which health care is delivered forever.

"Aridhia will provide the biomedical informatics platform and expertise required to collect, manage and analyse the vast volume and diversity of data that is needed to realise the potential of stratified medicine.
"By combining our expertise with that of our academic, clinical and commercial partners, the SMS-IC will supporting the creation of new knowledge to inform the delivery of quality health care across the world and create economic growth for Scotland."
The SME partners involved in the SMS-IS are Arrayjet, Axis Shield, Biopta, DestiNA Genomics, Fios Genomics and Sistemic Ltd.
---
ENDS
For more information contact Ross Barker in the University of Glasgow Media Relations Office on 0141 330 8593 or email ross.barker@glasgow.ac.uk
First published: 23 April 2013