BBC radio programme focuses on the history of the University of Glasgow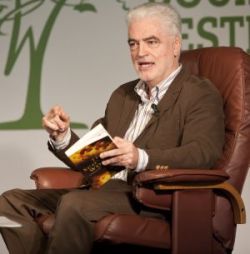 BBC Radio Scotland's landmark radio series on Scottish Universities will this week focus on the University of Glasgow. The programme – "Democratic Intellectualism" - will be broadcast on Wednesday 12 October at 1405, with repeats on Sunday 16 October at 0002 and 0603.
In the thirty minute documentary presenter Billy Kay charts the way in which the way on which the university and the city of Glasgow rose together.
As Kay explains, "The University has been central to the rise of the great city of Glasgow. Adam Smith's seminal work, The Wealth of Nations, was influenced by discussions with the city's merchants trading with the Americas. James Watt experimented on the steam engine while repairing scientific instruments at the University of Glasgow. The Foulis brothers came from a modest background and created a publishing press that was famous throughout Europe. They helped establish a very Glaswegian tradition that married the pragmatic and practical with the creative and intellectual. Among their workers was a poet called John Mayne who celebrated Glasgow's vibrant university scene and stressed the centrality of the University in the identity of the city's burgeoning population."
If ye've a knacky son or twa ,
To Glasgow College send them a'
Where, for the Gospel or the Law
Or classic Lair,
Ye'll find few places hereawa'
That can compare
There they may learn, for sma' propine,
Physician, Lawyer or Divine:
--- the gem that's buried in the mine
Is polish'd here ,
Till a' its hidden beauties shine,
And sparkle clear.
---
NOTES TO EDITOR
Episode 5 of The Scottish Intellect will be broadcast on BBC Radio Scotland at 1405 on Wednesday 12 October, repeated at 0002 and 0603 on Sunday 16 October. BBC Radio Scotland is available on 810 medium wave, 92-95 FM and also online. http://www.bbc.co.uk/programmes/b014ggp0
First published: 7 October 2011