Six honorary degrees presented to celebrate University's Commemoration Day
The University of Glasgow has awarded six honorary degrees as part of its annual Commemoration Day celebrations.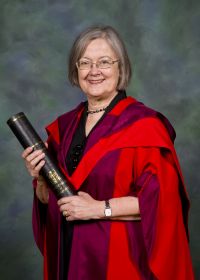 Honorary doctorates were conferred upon the Very Reverend David Lunan, Clerk to the Presbytery of Glasgow (2002-2008). An alumnus of the University, the Very Rev Lunan was moderator of the Church of Scotland's General Assembly in 2008 and has served as a minister at Renfield St. Stephen's Church in Glasgow city centre.
Lady Hale, barrister and judge was awarded a degree of Doctor of Laws (LLD). Lady Hale is the most senior figure in the British judicial system, becoming the first woman to hold the position of Lord of Appeal in Ordinary from 2004 until 2009. She is currently a Justice of the Supreme Court.
Professor Toshiyuki Takamiya, Emeritus Professor, Keio University Tokyo was presented with a degree of Doctor of Letters (DLitt). An honorary senior research fellow at Glasgow, Prof Takamiya is the leading scholar of medieval English Literature and medieval English manuscript studies in Japan. He is a collector of manuscripts and medieval books and is heavily involved in their digitalisation in order to make them accessible to researchers worldwide.
Professor Sir Leszek Borysiewicz, Vice Chancellor of the University of Cambridge and former Chief Executive of the Medical Research Council was awarded a degree of Doctor of Science (DSc).
Prof Borysiewicz was Deputy Rector at Imperial College London having joined the University in 2001 as Principal of the Faculty of Medicine. He has also been Governor of the Wellcome Trust (2006-07) and was knighted in the 2001 New Year's Honours List for his research into vaccine development.
Professor Victor Dzau, James B Duke Professor of Medicine, Duke University, USA, was presented with a degree of Doctor of Science. Prof Dzau is the Chancellor for health affairs at Duke University and serves as president and chief executive of the Duke University Health System. Professor Dzau is a preeminent researcher in cardiovascular medicine. He has also held positions at Harvard and Stanford universities.
Lord McFall, former MP for West Dunbartonshire, was awarded a degree of Doctor of the University (DUniv). Lord McFall served as MP for West Dunbartonshire from 1987 until 2010. During his parliamentary career he has served as Whip and spokesman on Scottish Affairs while in opposition, and in Government, served as Government Whip, Parliamentary Under Secretary of State in the Northern Ireland Office, and as Chairman of the House of Commons Treasury Select Committee. He now sits in the House of Lords.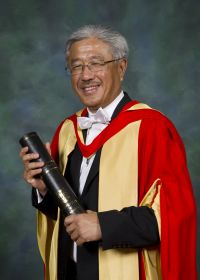 Commemoration Day celebrates the founding of the University in 1451 with events comprising a service for the commemoration of benefactors in the University Chapel, the conferring of honorary degrees by the Chancellor, and the Commemoration Day lunch. The current form of celebration has been followed for more than a century but its roots go back to the annual May banquet first held in 1492.

---
For more information contact Stuart Forsyth in the University of Glasgow Media Relations Office on 0141 330 4831 or email stuart.forsyth@glasgow.ac.uk
First published: 16 June 2011