Royal Society award for Computing Science academic
Professor Muffy Calder of the University of Glasgow's School of Computing Science has been appointed as a Royal Society Leverhulme Trust Senior Research Fellow.
The fellowship scheme provides funding to allow science researchers to work for a period of time without teaching and administrative duties.
Prof Calder's year-long project, which will begin in October, is named 'Live Formal Models for Predictable Pervasive Systems'. It will examine ways in which computing systems could be future-proofed to ensure software can be altered and updated without 'breaking' the system.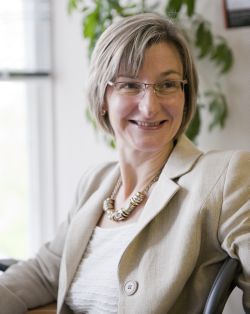 Prof Calder said: "Computer systems are playing an ever-larger role in our everyday lives. These 'pervasive' computers include devices as diverse as mobile phones and sensor-based healthcare systems, each made up of numerous components that interact with each other and with the environment around them.
"The project I'll be working on will look at how changes to these systems can be modelled mathematically to predict the effect of change, either by adding, removing or updating a component or changing the environment it is working in. For example, the system might move from a stationary environment to a moving one (e.g. a train), or a new component may use more resource like power or money, compared to an existing one. The challenge is constructing appropriate models that are detailed enough yet allow computation of answers in real-time – i.e. before the change actually occurs.
"The ultimate aim of my research is to allow users to predict the effect of change on a system and be confident that their device will continue to work as expected once that change is made, creating truly plug-and-play systems.
"It's an ambitious project to complete in one year, but the fellowship funding will help me to focus on the work without splitting my attention to give teaching and administration the attention it deserves."
Prof Calder is one of seven academics from UK universities to be appointed as a Royal Society Leverhulme Trust Senior Research Fellow this year, and the only researcher in Computing Science.
The others are: Prof Michael Ashfold, of the University of Bristol; Prof Alexey Kavokin of the University of Southampton; Prof Ofer Lahav of University College London; Prof Peter McGlynn of the University of Aberdeen; Prof Frank Nijhoff, University of Leeds and Prof Michael Ruderman of the University of Sheffield.
---
For more information contact Ross Barker in the University of Glasgow Media Relations Office on 0141 330 3535 or email ross.barker@glasgow.ac.uk

First published: 29 July 2011