University arrangements for Wednesday 30 November
Due to the likely difficulties that the planned industrial action might cause, the University of Glasgow has decided not to run daytime classes on Wednesday 30 November.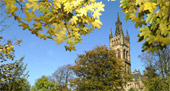 The University regrets the disruption that this might cause. While classes are cancelled, the University will otherwise be open for business. In particular, the two Graduations scheduled Wednesday 30 November, in Arts and in Social Sciences, will run as planned.
---
First published: 28 November 2011