University of Glasgow welcomes new Principal
Professor Anton Muscatelli has officially taken up the office of Principal of the University of Glasgow.
He becomes the 50th Principal in the University's history and follows a successful tenure by Sir Muir Russell.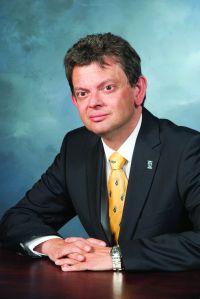 Former Principal of Heriot Watt University and current Convenor of Universities Scotland, Professor Muscatelli, 47, said: "Glasgow is one of the very best Universities in the UK. Throughout its history it has had a major impact on the world stage, and in recent years it has significantly grown its influence.
"I am excited and honoured to succeed Muir Russell as Principal. As well as continuing to work towards the ambitious targets set out in the University's plan 'Building on Excellence, I look forward to working with all colleagues to develop a strategic plan beyond 2010 which will maintain our momentum and further enhance our reputation as a world-class University."
Former Principal Sir Muir Russell spoke highly of his successor, he said: "Professor Anton Muscatelli brings great academic authority plus the experience of heading a strong, research-led University at Heriot Watt which, during his Principalship, developed new, imaginative and convincing strategies. His successful leadership of Universities Scotland reflects the high regard in which he is held by his colleagues in the Higher Education Community."
Joy Travers, Chancellor's Assessor and chair of the University's selection committee said: "Professor Anton Muscatelli is a distinguished economist who brings exceptional strategic leadership and understanding of the issues facing universities at this time. With Professor Muscatelli at its head, this world-class University will continue to grow from strength to strength."

---
First published: 30 September 2009