Glasgow cements links with Tanzania
Published: 12 May 2009
Glasgow has today signed a Memorandum of Understanding (MoU) with the University of Dodoma, in Tanzania.
Glasgow has today signed a Memorandum of Understanding (MoU) with the University of Dodoma, in Tanzania.
It is the third MoU the university has with an African higher education institution.
The agreement was signed by the Principal, Sir Muir Russell, Professor Idris Kikula, Vice-Chancellor and Professor Ludovic Kinabo, Deputy Vice-Chancellor of the University of Dodoma. Other university academics were also present.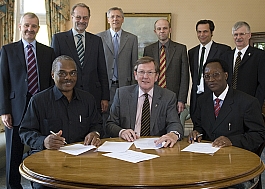 The partnership with the Tanzanian university is part of Glasgow's Internationalisation Strategy for Africa. MoU's currently exist with the University of Dar es Salaam, also in Tanzania, and Makerere University in Uganda.
Sir Muir said: "We are delighted and honoured to enter into this new and exciting relationship with University of Dodoma. We at the University of Glasgow have no doubt that it will be beneficial for both our institutions, for our academics and students.
"The University of Glasgow has had a long and distinguished history of links with Africa and this Memorandum of Understanding with Dodoma, is just one of many strategies we are employing through our Internationalisation Strategy to develop closer ties with universities in that continent."
Professor John Briggs, who leads the university's Internationalisation Committee for Africa added: "On behalf of all in the Africa committee, I would like to extend my welcome and gratitude to both Professors Kikula and Kinabo for their journeying to be with us and for all their hard work making today possible.
"This MoU is but one part of a number of active partnerships we are seeking to cultivate and establish with African institutions. We want to develop meaningful and close links which deliver much for all staff and students. We hope to establish similar memorandums with between eight and 10 African institutions in the coming months. This may be extended at a later date, but today is about celebrating our new official partnership with the University of Dodoma."
Professor Kinabo is a veterinarian by profession who obtained a PhD from Glasgow while Professor Kikula is an environmental scientist, with interests in land use planning and natural resource management.
For more information please contact Eleanor Cowie, Media Relations Officer at the University of Glasgow on Telephone; 0141 330 3683 or Email: e.cowie@admin.gla.ac.uk
---
First published: 12 May 2009