University science festival promises fun for all the family
The third University of Glasgow Science Festival gets underway this week with the first of a series of public lectures taking place on Thursday, May 7.
The festival will culminate on Sunday June 14 with a family fun day at the Hunterian Museum where a variety of free hands-on activities will engage and captivate adults and children alike.
Visitors to the fun day will be able to make a Morse code telegraph, get up close with some interesting animals, have a go at spinning and weaving, build their very own solar car, view the stars inside an inflatable planetarium and meet and question scientists working in fields such as big bang physics and robotics. There will also be a rocketry session in the Children's Garden at the Botanic Gardens where teams of scientists will make and launch rockets.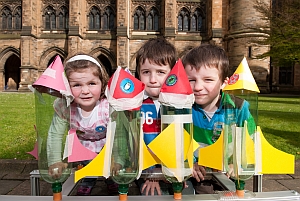 The public lecture programme commences on May 7 with a talk by Dr Roger Wardman of Heriot-Watt University, called 'Smart fabrics and interactive textiles', which will look at how new materials might change the function of the clothes we wear.
Other lectures include: Adventures in the chemical nano-world (May 14), High-energy astrophysics started in Scotland (May 21), Science is fun (May 28), Life beyond the abyss (June 4), and Three degrees of climate change (June 11).
As part of the festival a Saturday science club, a five-week course of fun activities for eight-12-year-olds, will also run from May 2-30, costing £40. For older people there are other short courses and special events, including birdsong identification, cheese-making, and for over-18s, a beer-making course that will examine the science behind a perfect pint.
A schools programme will also run from 1-12 June offering teachers a practical and engaging way in which to support their science and technology teaching.
Dr Rebecca Crawford, from the festival team, said: "The Glasgow University Science Festival is about showcasing the everyday applications of science and engineering, especially cutting edge research, and making it understandable and fun for children and adults.
"Hopefully, by giving young people a hands-on experience, and expanding their knowledge and understanding of what science and engineering can achieve, we might inspire the next generation."
---
For further details on the festival programme and the courses on offer contact Dr Rebecca Crawford on 0141 330 5370 or visit www.glasgowsciencefestival.org.uk

For more information contact Stuart Forsyth in the University of Glasgow Media Relations Office on 0141 330 4831 or email s.forsyth@admin.gla.ac.uk


First published: 7 May 2009