Jackie lends support to Doggy Dawdle
It's time for 'walkies' again as the University of Glasgow hosts another Doggy Dawdle to raise funds for its new £10m Small Animal Hospital.
The event takes place once again at the University's beautiful Garscube estate on Sunday May 10 at 11am and is expected to see hundreds of owners and their pets walking a 5km or 10km route around the grounds.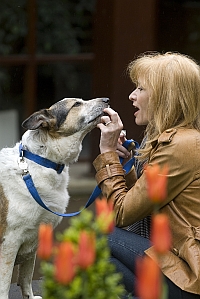 BBC Reporting Scotland news anchor and television presenter Jackie Bird, who is supporting the event, said: "I'm delighted to be supporting the 2009 Doggy Dawdle which will help raise funds for a wonderful new facility which will care for the pets of the West of Scotland."
With one of the busiest animal hospitals in the UK, the pets and staff have expanded and outgrown their existing hospital building. The new hospital, due to open in late 2009, will be a pioneering world-class centre for veterinary medicine.
It will be a teaching and referral hospital for the 21st century which will also provide students, practising vets and staff with unrivalled facilities.
There will be spot prizes on the day and every participant who completes the course will receive a certificate.
Pre-registered entry fees cost £5 for an individual and £10 for a family of two adults and up to four children or £10 and £15 on the day. Dogs are welcome but not necessary. To register for the event in advance, contact Angela Hair on 0141 330 3593 or email a.hair@admin.gla.ac.uk for an entry form.
---
For further information contact Stuart Forsyth in the Media Relations Office of the University of Glasgow on 0141 330 4831 or s.forsyth@admin.gla.ac.uk
First published: 1 May 2009