HM Inspector of Education appointed as Honorary Professor
Published: 29 June 2009
Her Majesty's Senior Chief Inspector of Education in Scotland, Graham Donaldson, is to take up a new role as an Honorary Professor.
Her Majesty's Senior Chief Inspector of Education in Scotland, Graham Donaldson, is to take up a new role at the University of Glasgow as an Honorary Professor.

The two-year, part-time honorary professorship in the Faculty of Education will see Mr Donaldson work with colleagues in and beyond the Faculty to re-imagine teacher education and development into the future and to open up the process of modelling new ways of ensuring that Scotland's teachers are and remain amongst the very best educated professionals in the world.

Professor James Conroy, Dean of Faculty, expressed his delight that the partnership agreement with Government has yielded such a fruitful outcome and is looking forward very much to Graham's arrival in the Faculty of Education.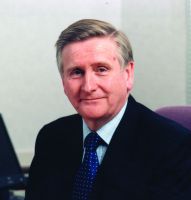 He said: "Graham Donaldson brings with him a wealth of national and international experience of, and expertise in, teacher development, which will open up new horizons in teacher education.

"He will be a great asset to the Faculty and more broadly to Scottish teacher education. We anticipate Graham's appointment as an honorary professor sewing together even more effectively our partnerships with the profession and Government, national and local, in pursuit of educational excellence."

Sir John Elvidge, Permanent Secretary of the Scottish Government, said: "Graham has played a major role in developing the Curriculum for Excellence – he leaves a huge record of achievement across the education system in Scotland. As Senior Chief Inspector he has won an international reputation for innovation and excellence, and has inspired and driven a continued quest for excellence and improvement across the Scottish education system.

"I am pleased that his contribution to education continues, as he uses his deep knowledge and understanding in his new role as honorary Professor in Glasgow University's Faculty of Education, as well as continuing to provide advice to the Scottish education system and Scottish Government."

Fiona Hyslop, Cabinet Secretary for Education, said: "I have worked very closely with Graham over the past two years through what has been an exciting time for Scottish Education. He has provided wise advice to me and the Scottish education system throughout a period of major change. He has been a key influence as we have introduced the biggest changes to the curriculum for a generation and has also made an equally important contribution to ensuring improvements across education and children's services.

"Graham has worked tirelessly to improve the Scottish education system and is very well respected across the education world at home and abroad. I extend best wishes in his new post and I look forward to continuing to work with him in that role as he continues to help drive forward improvements in education in Scotland."

Graham joined HM Inspector of Education in 1983, becoming HM Senior Chief Inspector in 2002. He was awarded the Order of the Bath, CB in the Queen's Birthday Honours earlier this month.

He joins the University in the autumn and arrangements for the appointment of his replacement will be made shortly.
---
For more information contact Stuart Forsyth in the University of Glasgow Media Relations Office on 0141 330 4831 or email s.forsyth@admin.gla.ac.uk
First published: 29 June 2009