100th anniversary of first powered flight in Scotland
Scotland's aviation pioneers, Glasgow graduate Frank Barnwell and his brother Harold are to be honoured this week by the Royal Aeronautical Society.
A Royal Aeronautical Society heritage award plaque is to be unveiled by Scottish culture minister Mike Russell in Balfron near Stirling to mark the place where Frank and Harold Barnwell experimented with early aircraft designs.
It was in Balfron in 1905 that Frank and Harold Barnwell built their first glider and later at least one powered aircraft. They attempted to fly them in the nearby fields but were initially unsuccessful. They then opened the Grampian Engineering and Motor Company in 1906 at Causewayhead in Stirling and it was there that they built their biplane which was successfully flown on 28 July 1909.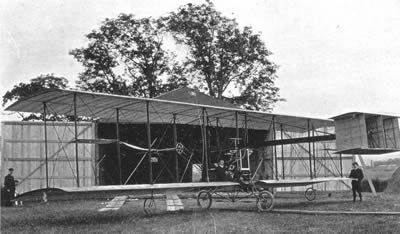 It only flew 80 yards before it crashed but it is still recognised as Scotland's first powered flight.
Both brothers later moved to England, where Frank specialised in aircraft design and was responsible for the development of the Bristol Scout, the Bristol Bulldog and later the Bristol Blenheim. Harold became a test and training pilot and designer for Vickers.
Harold died in 1917 while experimenting with a newly designed aircraft, while Frank was killed in his own plane when it crashed in 1938.
Frank's contribution to aviation design is still felt today. He laid out seven consecutive 'pivot points' of aircraft design in a paper read to the Glasgow University Engineering Society in 1915 and the resulting Bristol Fighter aeroplane became a legend almost as soon as it arrived on the Western Front. His intellectual methodology and sequencing of pivot points together professionalised aircraft design. And in spite of revolutions in technology they remain valid to this day for supersonic fighters as well as for strut-and-wire biplanes.
Frank Barnwell studied naval architecture and engineering at Glasgow University from 1900-05 graduating with a BSc in April 1905.
The book 'From Pilcher to the Planets' by Professors Dugald Cameron and Roderick Galbraith and Dr Douglas Thomson (published by University of Glasgow in 2003) details the Barnwell brothers' contribution to aviation.

---
Further information:
Martin Shannon, Media Relations Officer
University of Glasgow Tel: 0141 330 8593

First published: 24 July 2009