Glasgow celebrates Charles Darwin anniversary
The University of Glasgow is marking the bicentennial of Charles Darwin's birth and the 150th anniversary of the publication of Origin of Species with a series of free public events.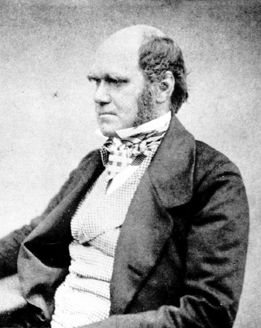 Speakers from the University will discuss how Darwin's ideas on evolution are being explored in 21st Century in a series of talks, in the St Andrew's Building from 10am - 5pm on Saturday 14 February entitled: 'Darwin and Evolution Today'.*
Dr Dominic McCafferty, Senior Lecturer in Life Sciences who will be lecturing on 'Darwin in Scotland' at the event said: "Darwin's life is an inspiration to naturalists and biologists everywhere and his theory of natural selection is the most important unifying theory in biology today. It is interesting to speculate on how his early student days, his observations of natural history in Scotland and his connections with Scottish scientists influenced his development as a naturalist."
Lars Chittka from the University of London will deliver Darwin's Birthday Lecture on the subject of "Humans, bees and the evolution of intelligence" at 5pm in the Western Infirmary Lecture Theatre on 11 February. Darwin's observations of bees had a profound influence on his thinking and his theory of evolution. Professor Chittka is a renowned expert in insect behaviour and physiology who uses bees as a model system to understand how sensory systems, learning, and cognitive abilities in animals evolve.
'Want to Know Where We Came From?' is a lecture and discussion with Professor Roger Downie and Dr Kevin O'Dell of the University of Glasgow on the origin of all life forms but humans in particular. The lecture will be held at 7pm on 12 February in the Glasgow Science Centre.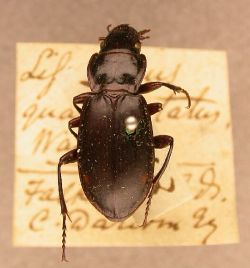 Meanwhile, The Hunterian Museum's single beetle specimen - collected by Darwin during the famous voyage of the Beagle (1831 – 1836) when he visited the Falkland Islands - is currently being loaned to the Palazzo della Exposizioni in Rome as part of 'DARWIN 1809-2009', the spectacular international exhibition organized by the leading natural history museums of the world. The beetle, a species new to science when it was first described in 1843 as Lissopterus quadrinotatus – will return to permanent show in the Hunterian Museum in May 2009.
* Admission is free to the 'Darwin and Evolution Today' event, hosted by The Department of Adult and Continuing Education together with the Glasgow Natural History Society, but in order to confirm numbers could members of the public please inform DACE that you will be attending by telephoning 0141 330 1835 or emailing dace-query@educ.gla.ac.uk
Further information:
Martin Shannon, Media Relations Officer
University of Glasgow Tel: 0141 330 8593
Darwin seminars: http://www.gla.ac.uk/faculties/fbls/eeb/seminars/
Darwin and Evolution Today: http://www.gla.ac.uk/departments/adulteducation/latestnews/Darwin.htm
---
First published: 6 February 2009