Business School to run joint MSc course with top Colombian university
The University of Glasgow Business School has signed a memorandum of agreement with a top university in Colombia to provide a joint post-graduate business course.
The one year MSc course in Strategic Marketing with the Escuela de Ingeniería de Antioquia, EIA, (Antioquia School of Engineering), is scheduled to begin in the academic year 2009-10.
Under the agreement a University of Glasgow Business School academic will teach the 1st semester of the course at the EIA in Colombia before the class of approximately 20 students complete their 2nd and 3rd semesters at the Business School in Glasgow.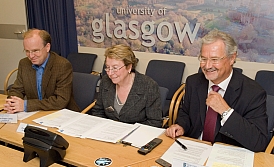 David Stansfield, Latin American Development Officer with the University of Glasgow said: "Colombia has a thriving economy and one of the best university systems in Latin America which produces excellent quality graduates. This is an important move for the University of Glasgow Business School expanding its recruitment of international students beyond India, China, Pakistan and North America."
The Antioquia School of Engineering, EIA is located in Medellin, the second largest city and business capital of Colombia.
The agreement was officially signed by last week by the Dean of the Faculty of Law Business and Social Sciences Professor Noreen Burrows during a video conference link-up between the two universities with David Stansfield and Professor Angus Laing, who negotiated the agreement, also in attendance.
Further information:
Martin Shannon, Senior Media Relations Officer
University of Glasgow Tel: 0141 330 8593
---
First published: 19 September 2008