Boucher & Chardin: Masters of Modern Manners
'Boucher & Chardin: Masters of Modern Manners' opens at the Hunterian Art Gallery on 24 September 2008. This new exhibition has been developed by the Hunterian in conjunction with The Wallace Collection, London, where it was previously on display.
This beautiful and ground-breaking show will feature approximately 30 exhibits including paintings, drawings, prints and decorative art objects but central to the show are two of the greatest French paintings of the eighteenth century: the iconic 'Lady Taking Tea' by Jean-Siméon Chardin and François Boucher's 'Woman on a Daybed'.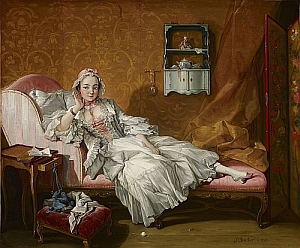 Chardin's 'Lady Taking Tea' comes from the Hunterian collection and was recently voted one of Scotland's most popular paintings by readers of The Herald newspaper. Boucher's 'Woman on a Daybed' is on loan from the renowned Frick collection in New York and is on display in Britain for the first time in 70 years.
Also, for the first time since the eighteenth century, 'Lady Taking Tea' will be re-united with its likely pendant, Chardin's 'The House of Cards' which was recently acquired by an English family trust. Further genre paintings by both Boucher and Chardin and their contemporaries will also be on display.
Visitors to the Hunterian will be able to enjoy a number of loans exclusive to the Glasgow show. Highlights include another important masterpiece by Boucher, 'Woman Fastening her Garter' from the Thyssen-Bornemisza Museum in Madrid, the National Gallery of Scotland's charming drawing of a 'Group at Tea' by Marcellus Laroon, a delightful Chinese pagoda of a smiling god from the Burrell Collection, and a selection of oriental decorative art objects and prints from the Hunterian's own collections. Visitors will also have the chance to enjoy an additional room dedicated to prints after Boucher and Chardin.
'Boucher & Chardin: Masters of Modern Manners' is at the Hunterian Art Gallery, University of Glasgow, from 24 September - 13 December 2008.
Open Monday – Saturday, 9.30am – 5.00pm
Closed Sundays and 26 – 29 September 2008 inclusive
Admission free
Hunterian Art Gallery
82 Hillhead Street, University of Glasgow, Glasgow G12 8QQ
www.hunterian.gla.ac.uk

---
First published: 17 September 2008