Taking a fresh look at Mackintosh
What would Mackintosh have designed if he had been able to use digital textile printing technology? This is one question raised by a new exhibition called Mackintosh Re-interpreted: Original Sketches to Digitally Created Fabrics which opens at the Hunterian Art Gallery, University of Glasgow, on 5 September 2008.
This pioneering display presents original Mackintosh textile design sketches from the Hunterian collections alongside new interpretations which have been developed by the Centre for Advanced Textiles (CAT), The Glasgow School of Art, through an innovative combination of state-of-the art digital technology and archival research.
CAT was established in 2000 and provides cutting-edge fabric printing facilities and expertise to a wide range of clients from fashion and accessory designers (Giles Deacon, Alexander McQueen, Mulberry), interior designers and manufacturers to bars and restaurants, museums, artists and photographers.
Charles Rennie Mackintosh's architecture and furniture designs are well documented, but the textiles he designed at the end of his career are largely unknown. His organic and geometric patterns show characteristic flair and inventiveness and are among the most progressive textile designs of the period in Britain. Over 100 survive, the majority at the University of Glasgow's Hunterian Art Gallery. The surviving paper designs rarely show a finished form ready for print, but present variations in design and colour. In addition, the watercolour medium presents tonal subtleties which could not have been reproduced with the printing techniques then available. These variations provide great scope for re-interpretation.
Commercial interest in the designs was revived in the 1970s by The Glasgow School of Art and Heal's Fabrics, London, and subsequently by Cassina, Hidden Road Company and Bute Fabrics. Their fabrics present contrasting interpretations and production methods. Now, the flexibility and sophistication of today's digital print technology has made it possible to produce alternative valid interpretation. Application of this new technology has been pioneered at the Centre for Advanced Textiles where the staff are considered leaders in the complete colour management of digitally printed textiles.
The research and resulting exhibition have been funded with support from The Monument Trust, The Glasgow School of Art and the Hunterian Museum & Art Gallery.
Professor Pamela Robertson, Curator of the Mackintosh Collection at the Hunterian said:
'The Hunterian houses the major holding of Mackintosh's original textile designs. Very few are known to have been put into production in his lifetime. It is therefore very exciting to see how well Mackintosh's ideas transfer from paper sketch to printed fabric.'
Vicky Begg, Bureau Coordinator, CAT, said: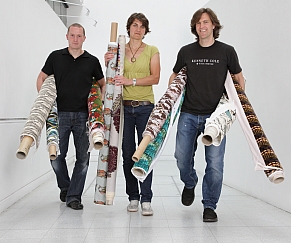 'It is natural for me as a textile designer to want to cover large surface areas. This immediately meant that I had either to create a tile which could then easily fill a larger area or to scale up the original piece. It was important for me to allow Mackintosh's handwriting, through his sketched lines and distinctive organic (yet abstract) shapes, to form the main pattern of the designs I created.'
Alan Shaw, Industry Co-ordinator, CAT, said:
'I had reservations on how to tackle the subject matter and how to produce new designs that paid homage to the originals, while offering a new contemporary look. As a freelance designer, I decided to approach the subject matter as I would a new collection: to develop a desirable, contemporary collection of prints that would appeal to the middle / high-end interior market.'
J.R. Campbell, Research Fellow / Centre Coordinator, CAT, said:
'I first attempted to 'complete' Mackintosh's thoughts by resolving repeats, connecting elements, and colour effects. I then decided to begin isolating and rearranging certain motifs to add complexity to the repeats. Finally I found myself asking, "What would Mackintosh have designed had he been able to use digital textile printing technology?" This became the theme for how I approached the rest of the re-interpretation process.'
Mackintosh Re-interpreted: Original Sketches to Digitally Created Fabrics
From Centre for Advanced Textiles, The Glasgow School of Art
5 September - 6 December 2008
At the Hunterian Art Gallery, University of Glasgow
Open Monday - Saturday, 9.30am - 5.00pm, closed Sundays and 26 - 29 September inclusive
Admission free
Private View
Thursday 4 September 2008
5.30pm - 7.30pm
For further information contact:
J.R. Campbell
Research Fellow/Centre Co-ordinator
Centre for Advanced Textiles
The Glasgow School of Art
Phone: 0141 353 4451
Email: J.R.Campbell@gsa.ac.uk
Sharon McHendry
Media Relations Officer
The Glasgow School of Art
Phone: 0141 353 4443 (Monday - Thursday)
Email: S.McHendry@gsa.ac.uk
Harriet Gaston
Publicity and Marketing Manager
Hunterian Museum and Art Gallery
Phone: 0141 330 3310
Email: H.Gaston@museum.gla.ac.uk
Centre for Advanced Textiles
The Glasgow School of Art
Foulis Building
158 Renfrew Street
Glasgow G3 6RF
www.centreforadvancedtextiles.com
Hunterian Art Gallery
82 Hillhead Street
University of Glasgow
Glasgow G12 8QQ
www.hunterian.gla.ac.uk
---
First published: 2 September 2008