Exhibition celebrates artist's 100th birthday
The University of Glasgow is hosting an exhibition which celebrates the life and works of artist Hannah Frank.
Opening on her 100th birthday, it showcases a range of her most popular and celebrated works, along with some newly discovered items.
And Hannah herself was there to attend the opening at the University of Glasgow chapel.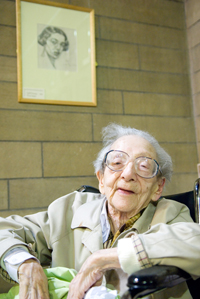 Many of the items on display have been loaned from private collectors and never before exhibited. There are also family sketches, self-portraits and extracts from her illustrated diaries and a special exhibition of Glasgow University Magazines from the 1920s and 30s, to which Hannah Frank contributed on many occasions.
Hannah said: "If you're an artist, you do it for people, so that people will admire it, so it's no use if it's kept in a dungeon and nobody ever sees it. You hope that people will see it and think you're wonderful."
The Hannah Frank Centenary exhibition will be housed in the University chapel and runs until 11 October.
Rev Stuart MacQuarrie, chaplain to the University of Glasgow, said: "The interfaith chaplaincy at Glasgow University is delighted to be able to host this important exhibition in celebration of one of the university's most distinguished students."
Sponsorship for the exhibition has come from 'One Glasgow', a University of Glasgow initiative to promote and celebrate equality and diversity with staff, students and the local community.
The exhibition has been organised by Fiona Frank, Hannah's niece, who has spent five years planning a variety of events for her aunt's centenary.
She said: "We feel certain that this is a first for the city, perhaps even for the world - a living artist being involved in the arrangements for an exhibition opening on her 100th birthday."
The exhibition has been supported by the Ferguson Bequest through One Glasgow.
---
Hannah Frank Centenary Exhibition, 23 August - 11 October 2008, Glasgow University Chapel, Glasgow.
Tel: 0141 330 5419. Monday-Friday 9-5pm. Saturdays 23 August and 11 October, 9am - 11am.
First published: 26 August 2008