Graduate honoured with top teaching award
A University of Glasgow graduate has been awarded one of the most prestigious accolades in education.
Last night, (Sunday 19 October) David Miller, from Glasgow, picked up the award for Secondary School Teacher of the Year at the UK Teaching Awards 2008.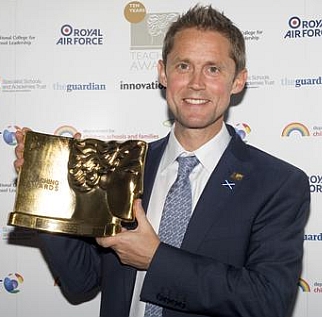 46-year-old Miller, who has only been a secondary school teacher for six years, first graduated from the university with a degree in Fine Art and English Literature in 1985 and was later awarded a PGDE with distinction from the Faculty of Education in 2002.
He took home the highly coveted award for his work as an English teacher at St Ninian's High School in Bishopbriggs. Miller impressed judges with his lively and innovative multimedia-equipped lessons, which the panel said brought an "eerie silence" to his classroom.
Since graduating from the University of Glasgow, Miller has had a varied career which has seen him teaching English in Italy and Denmark and working for the RSAMD in Glasgow. Miller has also run his own IT company as well as the arts and culture festival Mayfest. He moved into secondary school teaching in 2002 after some voluntary work on a children's panel.
From the ceremony in London last night, the judges commended Miller for encouraging self-reliance and ambition, and for piloting a fast-track course which resulted in 90% of his pupils receiving credit grades in their fourth year exams.
---
First published: 20 October 2008