The ghostly gaze of science
An award-winning visual illusion developed by university psychologists will be shown as part of this year's Glasgow Science Festival on 15 June.
The illusion plays on the way our minds decipher the direction of an individual's gaze. From a distance the two figures in the Ghostly Gaze image appear to be looking at each other but as the image gets larger the figures appear to be looking straight ahead.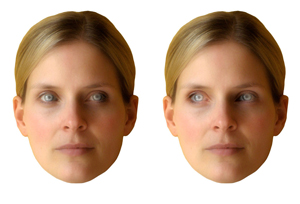 University of Glasgow lecturer in Psychology, Rob Jenkins, said: "Gaze direction is an important cue in social interactions. In most circumstances we are very accurate in judging where other people are looking, but under some conditions normal gaze perception can be led astray.
"The technique I used to create the image involves blending the fine detail from one photo with the broad strokes of a conflicting photo. Which photo is dominant then depends on the viewing distance. The illusion helps us to understand eye contact, and the sense of being stared at."
The illusion won second prize in the 2008 Visual Illusion of the Year Award run by the Neural Correlate Society. Rob Jenkins, was presented with the award, designed by renowned Italian sculptor Guido Moretti, at a ceremony in Florida.
For more details on the award and the winning illusions visit http://illusioncontest.neuralcorrelate.com/

---
Notes to editors
For more information please contact Kate Richardson in the University of Glasgow Media Relations Officer on 0141 330 3683 or email K.Richardson@admin.gla.ac.uk
First published: 28 May 2008