Honorary Degrees for Scottish football legends
Scottish football legends, John Greig and Billy McNeill are to be awarded honorary degrees from the University of Glasgow this summer.
The former Old Firm stars will receive their honorary degrees not only in recognition for their outstanding achievements in football but also for their continuing roles as distinguished ambassadors for the national sport.
University of Glasgow Principal Sir Muir Russell said: "Glasgow's two internationally renowned football clubs make a hugely significant contribution to the sporting life and economy of the city and are very supportive of the University. As distinguished role models, during and since their successful playing careers, John Greig and Billy McNeill personify the often unsung contribution the Old Firm clubs make to improving community relations in the city and in supporting many good and charitable causes."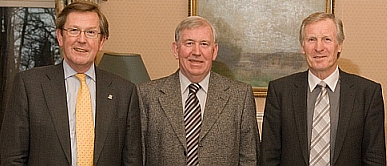 Responding to the news, former Rangers captain and manager, John Greig said: "It's a great honour to be recognised in this way. I left school at 15 and University always seemed out of my reach but now that I'm older and hopefully wiser I can see the importance of education. So it's very exciting to receive this award. I'd like to thank Rangers for giving me a platform and this award is as much for the club as it is for me."
Billy McNeill, former Celtic captain and manager, said: "I have few regrets in life but one is that I never studied at University. So it means a lot to me to be awarded an honorary degree from Glasgow University. It is a magnificent gesture. John and I have been friends for a very long time and we're really looking forward to the ceremony in the summer."
Rangers Chairman Sir David Murray said: "Everyone at Rangers would like to congratulate John on receiving this Honorary Degree. I know it will mean a great deal to him and is testimony to everything he has achieved over a long and distinguished career in sport. John has character in abundance which he has shown as a player, manager and Director at Rangers and as Scotland captain. This honour is richly deserved for a man who is a hero to thousands of Scots."
Celtic's Chief Executive Peter Lawwell said: "Billy McNeill has served Celtic Football Club and Scottish football in general with distinction over many years. He is a man of immense stature and someone who, as a player and manager was the complete professional. Billy was a born leader on and off the field. To captain Celtic and become the first British Club to win the European Cup, the biggest prize in Club football, is a massive achievement and Billy and the other Lisbon Lions will forever be among the most important figures in Celtic's illustrious history. Billy is fully deserving of the tremendous honour which has been bestowed on him. Everyone at the Club congratulates him on receiving the Honorary Degree from the University of Glasgow."

John Greig and Billy McNeill will receive their Doctors of the University honorary degrees at a ceremony in the Bute Hall on Commemoration Day at the University of Glasgow on Wednesday 18 June 2008.
Further information:
Martin Shannon, Media Relations Officer
University of Glasgow Tel: 0141 330 8593
Notes to Editors:
John Greig played in three treble-winning Rangers sides and captained the team which won the European Cup Winners' Cup in 1972. He made 753 appearances for the club and played 44 times for Scotland before his retirement in 1978. He succeeded Jock Wallace as Rangers manager and won two Scottish Cups and two League Cups. Awarded an MBE in 1977, Greig is a Director of the club, has been immortalised in a bronze statue outside Ibrox, and was voted the 'Greatest Ever Ranger' by fans. He was inducted into the Scottish Football Hall of Fame in 2004.
Billy McNeill captained the legendary sixties and seventies Celtic team that won 9 league championships in a row and became the first British club to win the European Cup in 1967. He made over 800 appearances for the club and played 29 times for Scotland before his retirement in 1975. McNeill, known as 'Cesar' to teammates and fans, then went into management with Clyde, Aberdeen, Manchester City, Aston Villa and twice at Celtic. Awarded an MBE in 1976, he was inducted into the Scottish Football Hall of Fame in 2004.
PICTURE: University of Glasgow Principal Sir Muir Russell with John Greig and Billy McNeill.

---
First published: 10 March 2008