Launch of the Wolfson Chair in Bioengineering
Professor Jon Cooper has been named as the first Wolfson Professor of Bioengineering at the University of Glasgow.
The Chair has been created to recognise the world class work of Professor Cooper and to help boost bioengineering research at the University.
At a ceremony to mark his achievement, friends and colleagues from across the University gathered to congratulate him.
Principal Sir Muir Russell said: "Bioengineering is at the very cutting edge of research work and Professor Jon Cooper is a world leader in this field.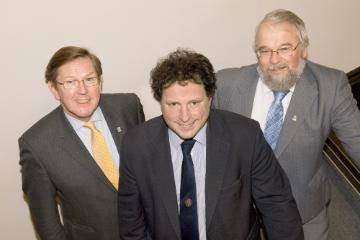 "This Chair acknowledges his achievements and we are very fortunate to have him at the University of Glasgow.
"We are once again marking the great support we have received from the Wolfson foundation over so many years and in so many ways.
"In agreeing to give its name to the Chair in Bioengineering, it not only recognises Jon's qualities but further strengthens the ties it has with this University."
Professor Cooper said: "Bioengineering is a resurgent subject, central to many important technological activities in biomedicine, including those in therapeutics, tissue and cell engineering and advanced diagnostics.
"I feel very privileged that my work has been recognised by the Wolfson Trust and I am grateful to them for conferring this Chair upon me.
"I would also like to take this opportunity to thank my many colleagues within my group, as well as my close collaborators across engineering, physics, chemistry, medicine and biology, both within the University and elsewhere."
Wolfson Foundation Executive Secretary Paul Ramsbottom said: "The Wolfson Foundation has been happy to support, through the refurbishment of the Rankine laboratories, cutting edge research in bioengineering led by Professor Jonathan Cooper.
"In establishing Professor Cooper as the Wolfson Professor of Bioengineering, the Foundation is further delighted to underline its association with a world class scientist, carrying out significant research, whose results have the potential to secure wide ranging benefits for us all."
*The photograph shows Professor Cooper, front, flanked by Sir Muir Russell, left, and Professor Robin Leake
---
First published: 14 January 2008