Picturing science
A novel new exhibition will expose the art behind the science of electronics.
Inspired by semiconductor devices and technology, the Chips with Flair exhibition will showcase an array of surprising images as well as a new composition by the Paragon Kaleidophone Ensemble.
A collaboration between artist and film-maker, Louise Camrass, electronic engineer, Dr Scott Roy, and engineering educator, Dr Jane Magill, the exhibition will reveal the often hidden world of electronics.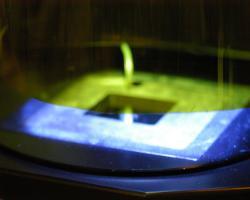 University of Glasgow lecturer in Education Studies and exhibition coordinator Dr Jane Magill said: "This exhibition will present still and moving images from a small but very beautiful world of semiconductor technology. By revealing a relatively unknown side to electronics we can bring a new audience to this field."
To demonstrate the relevance and impact that semiconductors have throughout the world, the audience will also hear music from China, Africa and Europe.
The exhibition will be held from 4-14 March 2008, excluding Sundays, at The Gallery, St Andrew's Building, Eldon Street, University of Glasgow. The exhibition will be open to the public from 10am-4pm.

---
Notes to editors
Press are invited to attend the opening of the exhibition from 6-8pm on 3 March at the St Andrew's Building. If you wish to attend, or more information, please contact Kate Richardson in the University of Glasgow Media Relations Office on 0141 330 3683 or email K.Richardson@admin.gla.ac.uk
The image above shows ultraviolet light seen through a protective filter used in the high resolution printing process in semiconductor devices.
The exhibition is supported by the University of Glasgow, Royal Academy of Engineering, the EPSRC (Engineering and Physical Science Research Council), theBA (British Association for the Advancement of Science), Paragon Ensemble, The PRS Foundation for New Music and Culture and Sport Glasgow.
The Paragon Kaleidophone Ensemble comprises:
Gameli Tordzro – kora/djembe
Kimho Ip – yang chin
Richard Blake – flutes
Ninian Pery – double bass/director

First published: 26 February 2008