First Minister launches work of Glasgow academic
Published: 15 December 2008
The First Minister, Alex Salmond, yesterday launched the latest edition of a leading political commentary on Scottish independence written by a Glasgow academic.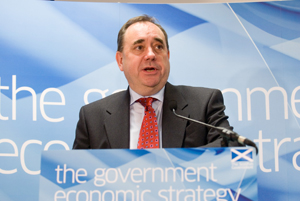 Together with launching the book during a ministerial visit to Barcelona, Mr Salmond and Professor Pittock discussed Scotland's future with leading Catalan dignitaries, journalists and academics.
The Road to Independence which in Catalan is translated, El camí cap a la independencia, was first launched by Mr Salmond in Edinburgh in March this year. Catalonia has been at the forefront of the devolutionary process in Spain following a brief period of independence during the 1930s. Today, many Catalans want greater autonomy from their neighbours.
Speaking ahead of the event, Mr Salmond said:
"Murray Pittock's book "The Road to Independence" follows the development of Scotland and our national movement from the 60s to the present day. "While 50 years ago Catalonia and Scotland started from very different places, our journey is, today, taking us in a similar direction, with the ultimate destination in the hands of the people of our two nations. That is why I am sure this book will be of great interest to Catalan readers. "Independence is the natural state for nations like Scotland. It offers us the freedom and flexibility to prosper – equal partners with other nations in the EU. That is the next part of Scotland's story."
Professor Pittock expressed his thanks to the First Minister. He said: "It was a great honour when the First Minister launched the first edition of 'The Road to Independence' at Holyrood earlier this year and it is no less of an honour this weekend.
"The book's appearance is, I believe, timely and demonstrates the extent of global interest in today's Scotland. Also, I think as a nation we can learn much from Catalonia."
For further information please contact Eleanor Cowie in the Media Relations Office on e.cowie@admin.gla.ac.uk
---
First published: 15 December 2008