University pays tribute to outstanding graduates
Published: 10 December 2008
The 2008 Young Alumnus of the Year Award is to be shared by a record-breaking athlete and an outstanding theatre director.
The 2008 Young Alumnus of the Year Award is to be shared by a record-breaking athlete and an outstanding theatre director.
An annual university honour, it aims to recognise and celebrate the achievements of alumni who have made a major contribution to the community, arts, sciences or business.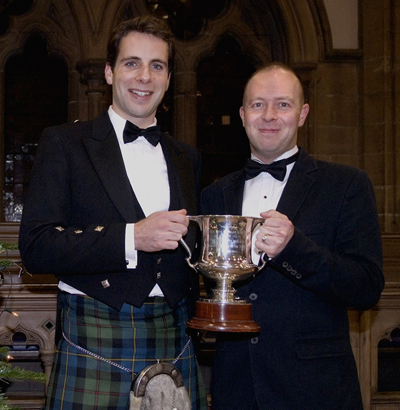 This year the awards committee decided to offer a joint award to Mark Beaumont and John Tiffany.
Mark Beaumont (MA 2006) was chosen as one this year's winners for the exceptional accomplishment of his recent record breaking cycle around the world and his fundraising efforts as part of this venture.
Mark became the fastest person to circumnavigate the globe by bicycle in February 2008. He completed the 18,297 miles cycle in 194 days and 17 hours after passing through some of the most beautiful but strenuous terrain he had ever encountered. Media, friends and family had gathered at the top of Avenue de Wagram in Paris on the 15th February 2008 where Mark had started from on the 5th August 2007. Flanked by police motorbikes Mark came around the Arc de Triomphe in a sensational finish to his amazing journey
In addition to his personal ambition of setting a new Guinness World Record, Mark used his cycling to raise awareness and money for five charities Community Action Nepal, CHICKS, Cyrenians, Rainer and Tusk.
John Tiffany (MA 1994) was selected as one of this year's winners for his outstanding achievements in Scottish and international theatre, demonstrated by his repertoire of remarkable productions. He is currently Associate Director (New Work) of the National Theatre of Scotland.
John's recent productions are The Bacchae (National Theatre of Scotland 2007) and Black Watch (National Theatre of Scotland 2006). Both have achieved international acclaim.
The Bacchae which was part of the 2007 Edinburgh International Film Festival, featured Alan Cumming in his first stage role in Scotland for seventeen years. John commissioned a new version of the play by leading playwrite David Greig which is based on a new literal translation by University of Glasgow lecturer Dr Ian Ruffell. The Bacchae toured Scotland before transferring to New York in the summer 2008.
Black Watch, John's previous work, remains the 'must see' show of recent British theatre. It was premiered as part of the Edinburgh Fringe Festival in 2006 and was an instant success. Its shows have sold-out across Scotland and in Los Angeles, New York and Sydney.
The pair were recognised at the University's annual Christmas Dinner, hosted by the Chancellor and Principal.
The Award was established in 2001 as part of the University's 550th celebrations. The trophy, which was kindly donated by the Old Boys of Allan Glen's School, is presented to the winning candidate at one of the year's graduation ceremonies or flagship events.
---
First published: 10 December 2008