Teaching Excellence Awards
Published: 8 December 2008
The Teaching Excellence Awards were presented by the Principal at the Winter Graduations.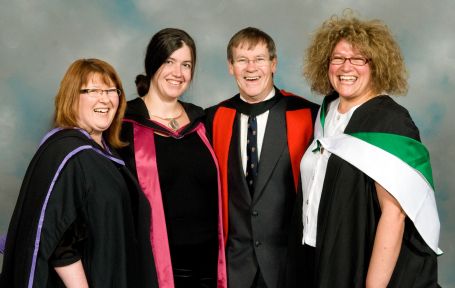 The Selection Panel for the 2007-08 Teaching Excellence Awards is pleased to announce that awards have been made to the following members of staff:
• Dr Tim Dempster, Department of Geographical and Earth Sciences
for his commitment to the continuous improvement of his courses and his promotion of research awareness amongst undergraduate students.
• Dr Liam Kane, Department of Adult & Continuing Education
for his dedicated, inspirational and passionate teaching in the Faculty of Education.
• The Level 1 Biology Teaching Team, Institute of Biomedical and Life Sciences (PICTURED):

(left to right) Anne Tierney, Dr Joanna Smith, Professor Douglas Neil and Andrea Brown

for their effective, responsive and creative approaches to administering, teaching and supporting the learning of a large group of students in their first year at University.
• Professor Michael MacMahon, Department of English Language
for his enthusiasm and passion for his subject and his ability to communicate and instil these in his students, and for his exceptional dedication and commitment to teaching over a sustained period of time.
• Dr Joanne Sharp, Department of Geographical and Earth Sciences
for her leadership in course design and innovation in teaching delivery methods, and her development and support of Graduate Teaching Assistants and the positive impact these have on the learning experience of students in the Department.
The Selection Panel was very impressed by the quality and diversity of teaching practice described in all the nominations for the Awards and wishes to congratulate and commend all the nominees.
The Members of Selection Panel for the 2007-08 Awards were:
Professor Andrea Nolan - Vice Principal (Learning & Teaching) (Chair)
Ms Kirsten Broad - Student
Mr Robin Easton - Lay member of Court
Mr Tom Guthrie - Faculty of Law, Business and Social Sciences
Professor Bob Hill - Faculty of Physical Sciences
Mr Gavin Lee - Student
Dr Sarah Mann - Learning and Teaching Centre
Professor Catherine Steel - Faculty of Arts
---
First published: 8 December 2008