Double graduation is an international family affair
Published: 5 December 2008
For David McKendrick and Thomas Lividini, graduating was an international family affair.
For David McKendrick and Thomas Lividini, graduating from the University of Glasgow was an international family affair.
The grandfather and grandson celebrated their graduation together when they were awarded with an MSc Public Policy and MSc Human Rights & International Politics respectively.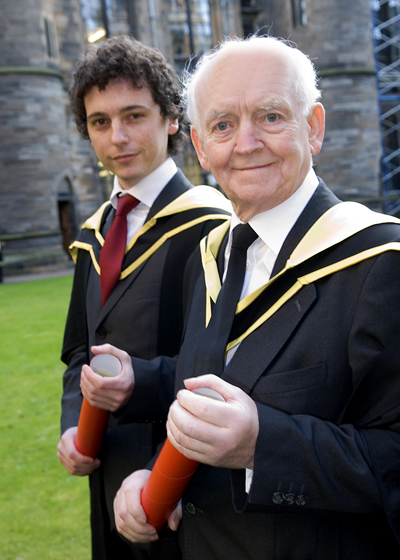 David (77), from Wishaw, a former director of social work services at North Lanarkshire Council, said: "I'm very proud to be sharing this moment with Thomas.
"Having worked in local government for half of my working life and been subject to all sorts of public policy I thought I might look at how it's developed, formed and analysed even if it is towards the end of my career."
David, who now heads up PHEW Scotland, a charity which provides respite care for people with severe learning difficulties, acknowledges the support from his colleagues and family. David and his wife Catherine have seven children and 18 grandchildren.
Thomas (24), who was born in Rome to his Scottish mother and Italian father, said: "I studied politics in Rome but I wanted to come to Scotland, where my mother is from, to see what life is like here.
"Glasgow is definitely one of the best universities for student experience. It has been quite intense but I've really enjoyed it and I'm really proud to be graduating on the same day as my grandfather."
Thomas will remain in Scotland for the time being working with an anti-poverty charity in Glasgow on an internship.
---
Further information:
Contact Stuart Forsyth in the media relations office on 0141 330 4831 or s.forsyth@admin.gla.ac.uk
First published: 5 December 2008