Scottish artists support charity auction
Artists from all over Scotland contributed paintings to a major art auction that raised more than £14,500 for charity.
The auction, which took place on 25 October, included paintings from local amateur artists as well as those with an international reputation, such as, Mairi Aitken, Louise Annand, Mary Batchelor, James Robertson, Philip Reeves and Alma Wolfson.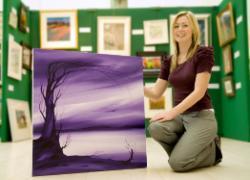 With reserve prices ranging from £50 to £1,500, approximately 90 paintings were sold raising more than £14,500. The funds raised will be split between cancer research at the University of Glasgow and CHAS (the Children's Hospice Association Scotland).
Professor Barry Gusterson from the University of Glasgow's Department of Cancer Science said: "This is the fourth charity art auction held at the University and it was as successful as its predecessors. The money raised by the event will support the vital research taking place at the University of Glasgow to find new cures for cancer as well as the wonderful charity work of CHAS"
For more information on the event, or for a preview of some of the artworks, visit http://www.gla.ac.uk/artevent
---
Notes for editors
For more information please contact Kate Richardson in the University of Glasgow's Media Relations Office on 0141 330 3683 or email K.Richardson@admin.gla.ac.uk
First published: 26 October 2007