Glasgow listed among 15 green institutions
Published: 22 August 2007
In 2007 Glasgow was one of only two European universities to feature in a global list of 15 green colleges and universities published by environmental news and commentary magazine, Grist
In 2007 Glasgow was one of only two European universities to feature in a global list of 15 green colleges and universities published by American environmental news and commentary magazine, Grist.
The table highlightings the fact that almost 45 per cent of the University's electricity is from renewable sources.
Bert Young, Energy Conservation Officer at the University, said: "Energy efficiency and environmental factors have always been an important issue for the University of Glasgow and particularly so in light of current concerns over climate change. Our record for achieving our goals for sustainability is exemplary and as Grist highlights, we are always on the lookout for new ways to reduce our overall energy use."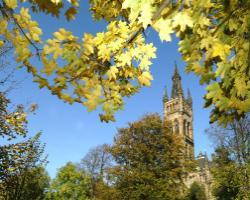 The University of Glasgow's record for sustainability dates back to 1998 when it was the first Scottish higher education institution to receive energy-efficiency accreditation from the Institute of Energy. The University is also recognised by Higher Education Environmental Performance Improvement (HEEPI) for its sustainable procurement practices for ensuring that construction of new buildings involves energy assessment and energy-saving designs.
The University of Leeds was the only other institution in Europe to be rated among the 15 listed institutions. The full list can be viewed at http://www.grist.org/news/maindish/2007/08/10/colleges/
---
Notes to editors
For more information please contact Kate Richardson in the University of Glasgow's Media Relations Office on 0141 330 3683 or email K.Richardson@admin.gla.ac.uk
First published: 22 August 2007