As a student at the University of Glasgow, you are automatically a member of its Students' Representative Council (SRC). The activity of the SRC is organised around three main areas: Representation & Support; Participation, and Services.

Representation & support
The SRC's main responsibility is to represent the students of the University, and this means all students. Whether you are a mature student, an international student, part-time, doing a post-graduate qualification or straight from school, the SRC works for your interests.
The SRC is a student-led organisation, run by a council which includes 30 student members and an executive formed by sabbatical and non-sabbatical officers. All registered students of the University have the right to vote and can stand for elections, which usually take place in October and March every year.
Furthermore, the SRC runs a free, impartial and confidential Advice Centre which can help you with anything from academic matters to housing, financial and welfare advice.
---
Participation
Student media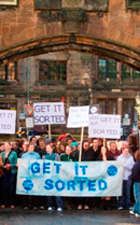 The SRC is home to four award winning student media groups – they provide a great way to pick up a whole host of new skills and experience, and of course enjoy a truly original experience. New contributors are always welcome throughout the year, and no experience is required – just contact the media heads to join in!
---
Student volunteer support service
The Student Volunteer Support Service (formerly known as Student Community Action) provides students with volunteering opportunities both on and off campus and provides a valuable link with, and input into, the local community. Student volunteering covers a large range of activities and projects including student tutoring or supporting homeless people in Glasgow, to programmes tackling AIDS in Africa.
---
Clubs and societies
There are over 150 clubs and societies at Glasgow and most of them enjoy affiliation and support from the SRC. You'll be spoilt for choice - Clubs and Societies provide an excellent way to meet new people and try new things, look great on your CV and are also lots of fun. Every year hundreds of students join a club or society for the first time, so you will not be alone. And if nothing takes your fancy, then it's really easy to set up your own
---
Services
Finally, the SRC offers a number of services to make sure that your life at university runs as smoothly as possible. Our services include:
The cheapest photocopying and printing facilities in the West End
A secondhand bookshop where you can sell and buy used textbooks
Flatshare
Student jobshop
Nightline (0141 353 1050), a student-run listening and information services between 7pm and 7am during term-time.