University of Glasgow Staff Curling Club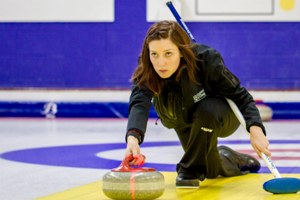 Curling is Scotland's Game and originally was played outdoors. Over the years it has been refined and is now mainly played indoors. Modern Curling is a game of Skill, Precision and FUN!
The rules are simple – to slide a stone (about 20kg) down the "rink" (about 40m) to a target (house) on the ice. The Player slides from the "hack" and releases the stone on (hopefully) the right path. As the stone is released the handle is twisted left or right to make it "curl" hence CURLING!!!
About curling
Two teams of 4 play against each other and all players are involved all the time, taking turns to deliver the stone or to sweep it. Sweeping helps the stone's trajectory and makes it go further.
After everyone has played, the team whose stone(s) are nearest the centre of house scores a point – one for each stone nearer than their opponents'. A game lasts 8 "ends" – about 2 hours.
Special shoes are worn for sliding – NOT SKATES as the surface must be clean and smooth.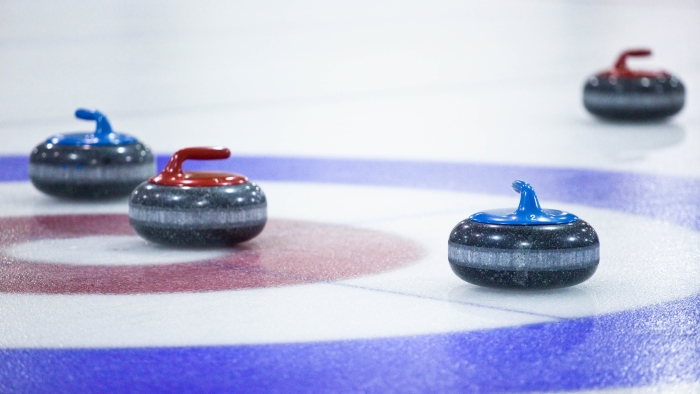 FAQ
THE GAME FOR YOU
Questions...
1) How long will it take to learn to play?
a) You can enjoy playing right away. It's best to play with others who have experience but you'll soon get the hang of it.
2) Is it hard to stay upright – I can't skate?
a) Curling ice is not wet or greasy. When you are not playing a shot, your shoes have a rubber sole to help you keep your grip.
3) What do I wear?
a) Most players wear some type of tracksuit trouser and sweater but you can soon get quite warm if you're sweeping. Regular players wear Club Colours.
4) Why Curl? It's an old folks' game!
a) Curling can be played from 8 – 80 and beyond. It's sociable, skilful, challenging but above all FUN!!!!
5) Do women and men play in the same team?
a) Normally this is the case. Partick is a fully mixed club, but there are men-only and women-only clubs, and we are happy to give advice.
6) Wheelchair Curling????
a) Partick CC welcomes any enquiries from Wheelchair Curlers and, in addition, there is a flourishing Wheelchair Curling Club at Braehead.
8) Where does Partick CC play its games?
a) We are based at the Rink at Braehead Shopping Centre, close to the M8 near the Airport.

Interested? If so, your next steps are:
Contact us via any of the Routes stated below. We will acknowledge EVERY contact we receive.
We will run a number of "Come & Try" sessions with our Coaches at the beginning of NEXT SEASON IN SEPTEMBER and you will be contacted well in advance to arrange a suitable time for your first session.
Your "Come & Try" session will be FREE. There is no obligation on your part to join the Club but if you do, your First Year's Membership will be at an "Associate Rate" lower than our usual subscription. We will discuss any/all charges in advance.