New look for MyGlasgow News in 2019
Dear colleagues,
MyGlasgow News will be relaunched in January, 2019, as a more streamlined and targeted e-newsletter.
It will still be called MyGlasgow News, but will be distributed weekly on a Monday instead of a Tuesday in future.
From our analysis, it is clear that we see good hit rates on some articles in MyGlasgow News, but many reach only a few readers.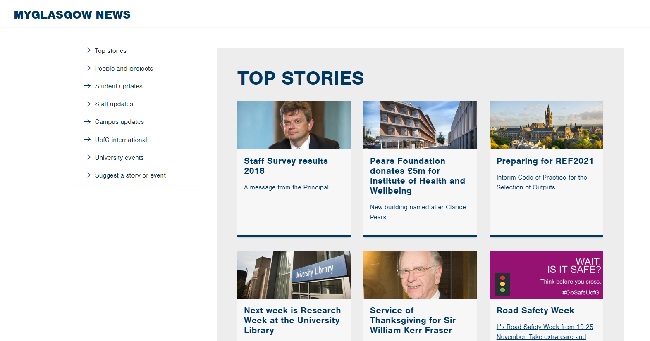 I am therefore introducing some changes which I hope will both make the newsletter a better product as well as streamlining the production process.
We undertook analysis on staff and student engagement with the newsletter, and the following analysis gives a snapshot of the month of September:
Over this period, five stories received over 1,000 views, whilst seven stories received less than 50 views.
73% of all articles receive 250 hits or fewer.
Only one Student story received more than 150 views - 'Get Paid to Improve MyGlasgow' (274).
Roughly a third of Staff stories analysed received fewer than 100 clicks - 13/41 (32%).
Over half of our Student stories received fewer than 100 clicks.
With the exception of two stories ('New relationship policy launched' / 'Two weeks left for parking permits') all of the 20 most read entries were in the top six stories in the newsletter – the Top Stories section.
Our most-read are similar in that they are all stories which are not specific to a particular academic or academic unit, affecting University staff generally.
We see a similar trend in all the stories with over 500 clicks, with all of them being stories which involve the University 'corporately', ie, not relating to one academic unit.
As a result of this analysis we will reduce the number of articles in the newsletter to accommodate only those which are proven to be interesting and relevant to staff. You will see nine "tiles" – one will be dedicated to a News in brief; another to campus development; and another to Events. The remaining six will focus on news or articles which we think are relevant and of interest across the University.
Our analysis shows that only tiny numbers of undergraduate students read MyGlasgow News, so we shall remove student communications from the newsletter and stopping emailing it to students. Postgraduates will still receive MyGlasgow News.
To ensure that we provide a more suitable outlet for some content, we will use a 'tiered system' which should better utilise some of the other, underused and more appropriate communication channels.
News in brief – for more niche stories or stories with limited interest.
College and School newsletters – we will divert more 'local' campus news to other newsletters on campus, signposting people towards news in their area. We will develop a way to link to these from MyGlasgow for Staff.
Sharepoint – we will continue to use Sharepoint as a channel to highlight internal news stories.
MyGlasgow webpages- we will continue to use MyGlasgow Staff to highlight key messages, and will work to develop MyGlasgow Students into a more effective channel for highlighting news, events and opportunities.
Please feel free to contact me directly if you wish to discuss these changes in greater detail.
Liz Buie
Head of Communications.
Liz.buie@glasgow.ac.uk 0141 330 2702
---
First published: 18 December 2018